How stimulus saved renewable energy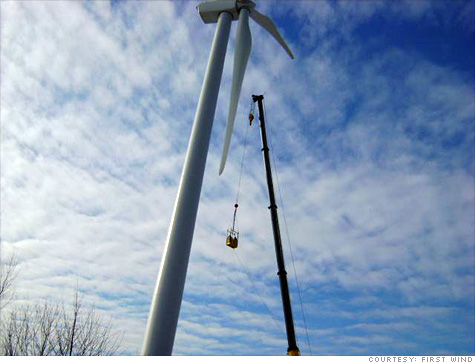 NEW YORK (CNNMoney.com) -- On a mountain top 80 miles northeast of Bangor, Maine, in country where houses and gravel pits are mere pinpricks on a map green with forest, Paul Gaynor is making stimulus work.
Gaynor, chief executive of First Wind, is using $40 million in federal funds to help build a wind farm that will produce enough power for 13,000 homes and has created 200 construction jobs.
Without stimulus, First Wind's project -- and most renewable energy projects across the country -- may not have happened.
"To us, it's been essential to get through the nuclear winter of financing ability," Gaynor said, referring to the dark days of early 2009 right after the financial collapse. "The recovery act was the bridge that got us from a broken market to one where projects actually get done."
Because of the way tax incentives worked prior to stimulus, few industries were more dependent on Wall Street profits than renewable energy.
Pre-stimulus, renewable energy developments were funded largely by big banks. As an incentive to expand clean, homegrown power, the government offered generous tax credits.
The credit wasn't limited to just big banks, said Ethan Zindler, head of North American research at Bloomberg New Energy Finance, a firm that tracks renewable energy investments. But the banks had the money and understood the rules, so they were by far the biggest financiers.
But tax credits only work when you're paying taxes. When Wall Street profits dried up and their tax bill fell, almost all funding for new renewable energy froze up.
"The market for financing large-scale power projects collapsed," said Zindler. "Stimulus fixed that."
Stimulus fixed it by changing the tax credit to an outright government grant worth roughly the same amount.
There is no limit to the amount that can be spent under the grant program, although it is set to expire at the end of this year. The government originally estimated it would cost taxpayers $5 billion.
The Energy Department said that from the start of the program in July though September, the last month for which data is available, over $1 billion has been paid to finance 32 projects nationwide.
It's hard to say for sure how many projects stimulus saved or what the renewable energy industry would look like without it, said Zindler.
In 2009, some 9,000 megawatts of renewable energy was built in this country, he said. The vast majority of that was wind power.
That's just slightly less than 2008, although without stimulus he estimated that maybe only half the 2009 projects would have been built.
Numbers from the American Wind Energy Association suggest that even fewer projects could have gotten built.
In years when Congress let a previous tax credit lapse, investments in wind energy fell by 75%.
That wouldn't bode well for President Obama's stated goal of doubling the country's renewable energy capacity by 2012.
And it wouldn't bode well for companies like First Wind, or anyone hoping to get a job in renewable energy.
The company's Maine project is actually an expansion of an existing $160-million facility right across the street that was completed last year.
First Wind took that tax credit and rolled it right over into the current expansion. Even on a frigid day in January, Gaynor said more than a hundred people are busy on the mountain constructing the new facility.
"It's a beehive of activity up there," he said.
Before 2010 is out, First Wind hopes to construct another 4 to 6 projects -- all partially paid for with stimulus money.