An emergency small business boost that fizzled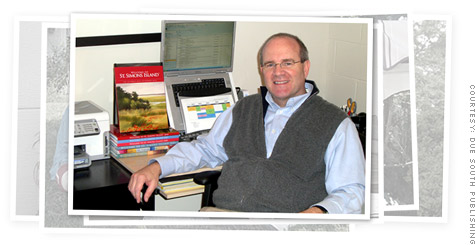 NEW YORK (CNNMoney.com) -- A stimulus measure crafted to get emergency funding to Main Street businesses has turned out to be such a flop that even its Congressional advocate wants the program killed. But for the 5,000 business owners who have jumped through all the hoops to land loans, even a flawed lifeline is better than none at all.
The "America's Recovery Capital" (ARC) loan program was created as part of February's $787 billion Recovery Act. From the very beginning, the program struggled. Congress ordered the Small Business Administration to release guidelines for the loans within 15 days. Instead, it took four months.
The program offers loans of up to $35,000 that are intended to be emergency lifelines for established but struggling small businesses. The terms are generous: The loans are interest-free, and no repayment on them is due for the first year.
Senator Olympia Snowe, R-Maine, was a primary supporter of the bill.
"I helped craft this initiative based on the message I heard from numerous business owners across Maine -- that in all of our efforts to stabilize our economy, too little attention was being paid to our nation's small businesses in need of a precious lifeline," she said in a statement as the program launched in June. "That is what this program is all about -- it will act as a bridge for hundreds of small business owners that just need a small infusion of capital to keep their doors open."
Five months later, Snowe introduced a bill to terminate the ARC program and return its remaining funding to the Treasury. The program was "plagued with difficulties" and falling short of its goals, she said.
Business owners say the documentation involved is overwhelming. They've also found the qualification terms almost impossible to meet: Businesses have to be in trouble but also still "viable."
Lenders don't like the program much either. It's a lot of administrative work for a minuscule loan and not much profit. As a result, many banks simply opted out of participating, leaving business owners scrambling to find lenders. Adding fuel to the fire, the Office of Management and Budget estimated that 60% of ARC loans will default.
Despite all those obstacles, SBA has backed 5,300 ARC loans since the program's inception.
We asked one successful applicant, Mack Sullivan of St. Simons Island, Ga., to describe the process of obtaining a loan for his six-year-old tourism literature publishing company, Due South Publishing.
Sullivan went through a dozen banks, a second loan, a new credit card and the purchase of two new insurance policies as part of his six-month quest. But in the end, landing a $35,000 loan with no interest was worth all the pain, Sullivan says.
Here, in is own words, is a description of what it took.
Mack's story
February: Between the end of February and the middle of April, I was really trying to educate myself on the ARC loans -- what form they were likely to take, who would qualify. Things were still a bit foggy.
I wanted to be the first one in line. There was some certainly level of frustration and some wondering about whether the program was going to ever happen. Every few weeks, I would try to do a search to learn what I could about the ARC loan program status. It was frustrating and a bit disappointing that it didn't happen sooner.
Mid-June, when the program launched: The most difficult part of the entire process was simply identifying a bank that was interested in doing the ARC loan.
Of course I went first to my own bank, Bank of America (BAC, Fortune 500). I have been a customer for 10 years and a business customer for seven years. There was no one that could provide any type of definitive answer about ARC loan participation. I had a very uncomfortable feeling about Bank of America's likeliness to do it.
The natural place you would start would be the list of SBA preferred lenders. I started going through the list, throughout Georgia first.
I was very surprised that most of them were still trying to decide if they were going to participate -- or had decided that they would not. I worked on calling banks every day, for a portion of the day, for a couple weeks.
There was a bank that contacted me from New York; they wanted to do the loan. We started the process only to find out about a requirement that the recipient of the loan has to be there in person to be validated for the loan. He was in New York, I was in Georgia.
I would say I had contact with between 10 and 15 banks. I finally found out through a friend that BB&T (BBT, Fortune 500) was interested in doing ARC loans. I immediately contacted BBT and had my first meeting to discuss the ARC loan on June 24. The loan officer at BB&T let me know that he had been made aware that 'yes, BB&T is interested in doing these loans' -- but nobody knew much about it. We were going to have to learn how to do this together. I said, 'Great! I'm ready to go!'
July: They had to do some internal work to figure out how they were going to accept the application. In early July we started the paperwork.
I knew the loan officer, so we could talk candidly and openly. He was very upfront and honest about the fact that this is a new program, BB&T had never done one -- they had to figure out how to administer it. That didn't bother me at all.
The early indications were very positive. I submitted the completed application to BB&T. BB&T notified me 'we now know how to get this done' -- but I had to be a customer. I also had to have a loan and a credit card with BB&T. I am here trying to get a loan. If you want to give me a loan, I will take it!
I filled out the loan and credit card application material overnight. Three days later, I had a $25,000 business loan from BB&T and a Visa card with a $5,000 credit limit.
That is one of the interesting angles. What took BB&T three days took the ARC loan process six months. That wasn't all government slowdown and bureaucratic quagmire. This was a new program that BB&T didn't know either.
My plan was to pay off high-interest credit card loans with the ARC loan. BB&T's government loan office wanted documentation that every transaction was a business transition. I had to get credit card statements going back to forever. From start to finish, this process was an exercise in being patient. None of it moved quickly.
September: I started to get concerned. I decided to contact the SBA directly to find out the status of my ARC loan. The SBA still didn't have their hands on it -- they hadn't even seen it.
I contacted the local president of BB&T to do what he could do to get this ARC application submitted to the SBA. That helped to move things along a bit. By early October, BB&T submitted the application.
October: The SBA looked at the application and said 'these financials are old.' We had started the application in June. So I had to resubmit a lot of updated financials.
To the SBA's credit, on Nov. 4, the ARC loan was approved. I was notified by BB&T. The bank said, 'Congratulations! Your ARC loan was approved, and you are the first ARC loan to be approved within BB&T.'
I thought we were done -- but no, we weren't done.
November: I received a two-page checklist from BB&T. There were a few new items that came up out of nowhere, including business liability insurance and workman's compensation insurance.
I have in the past had business insurance, but it is very expensive and I decided it was something that I could no longer afford. But the benefits of the ARC loan far outweighed the cost of any insurance.
I obtained that insurance within a week or so, and I completed all the other last-minute detail things. There is a long list of things the bank wanted: A copy of my bylaws, proof of trade name registration, a copy of my business law, documentation that all tax amounts were fully paid for with the IRS.
At this point, I had gone through this exhaustive process and I wasn't going to let anything get in my way.
December: On Dec. 15, I signed the final ARC loan paperwork at BB&T. The money came within two weeks.
I was able to endorse the checks and they were all immediately applied to my credit card accounts, with interest rates that went as high as 25.9%. The lenders have been rushing to raise rates before the new rules take effect. It gave the credit card companies a six-month window to do whatever they wanted.
I had a credit card with Bank of America on which they increased the interest rate from 13% to 21%. And it was retroactive -- it would apply to the entire $20,000 balance.
And in the end ... The reason I was able to be so patient was that the ARC loan has been absolutely fantastic for me. Not only did it pay off $35,000 worth of high-interest credit card loans, but I don't have to make any payments for more than a year.
From a cash-flow perspective, it has huge, because every month -- starting this month -- I no longer have the $2,000 or whatever it was I was paying to service these credit card bills.
It was a bit of an adventure, but it worked out in the end. Everyone had goodwill in mind. It just wasn't a very efficient process.