Apple doubles iPhone sales in record quarter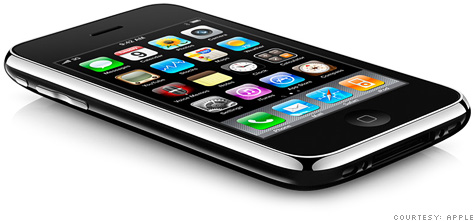 NEW YORK (CNNMoney.com) -- Apple Inc. reported another strong quarter Monday on the back of its current product lineup, including iPhones and Macintosh computers, as the company gears up for its widely anticipated announcement of a new tablet computer on Wednesday.
The Cupertino, Calif., company said net income for the quarter ended Dec. 31 surged 50% from a year earlier to a record $3.4 billion, or $3.67 per share. Analysts polled by Thomson Reuters had expected earnings of $2.08 per share.
Apple's sales rose 32% to a record $15.7 billion, easily sweeping past analysts' forecasts of $12.1 billion. That marks the second straight quarter in which Apple posted record revenue.
"If you annualize our quarterly revenue, it's surprising that Apple is now a $50+ billion company," said Apple CEO Steve Jobs in a statement. "The new products we are planning to release this year are very strong, starting this week with a major new product that we're really excited about."
The latest results were aided by new accounting laws that allow the company to declare revenue from iPhone and Apple TV sales as they come in. Previously, Apple had to spread the revenue over the span of customers' contracts.
A 100% year-over-year rise in iPhone sales and a 33% increase in Mac sales also helped drive Apple's results. The company said it sold a record 8.7 million iPhones in the quarter. That's up 17.6% from the 7.4 million it sold in the previous quarter and double what it sold during the same quarter a year ago. Sales were partially boosted by Apple's introduction of the iPhone in China last quarter.
Apple sold 3.4 million Macs in the quarter, despite the economic downturn and the fact that the lowest-priced Mac retails for $1,000.
The company lowered prices for many of its products last quarter, but still managed to grow its gross margin to 40.9%, up from 37.9% a year ago. Apple said lower component prices fueled its surprising margin growth, which beat Wall Street's consensus forecast by more than five percentage points.
Peter Oppenheimer, Apple's chief financial officer, said on a conference call with investors that the company anticipates earnings of about $2.06 to $2.18 per share in the current quarter on revenue of about $11 billion to $11.4 billion.
Apple's guidance is notoriously conservative. For instance, Apple predicted last quarter's revenue would be about $11.4 billion, with earnings per share of about $1.74.
Shares of Apple (AAPL, Fortune 500) fell 1% after hours.
Apple Tablet - The next iPhone?
The strong showing for the iPhone is an encouraging sign, as a growing number of competitors are encroaching on the iPhone's territory by unveiling similar devices. Google (GOOG, Fortune 500) recently debuted its Nexus One phone, Motorola's (MOT, Fortune 500) Droid has become a big hit and Research In Motion (RIMM) continues to produce new, popular BlackBerry devices.
Still, some analysts say Apple can't survive on the iPhone's success forever. Before the iPhone, the company's main cash cow for the most of the last decade was the iPod. But as the MP3 player market began to saturate, sales eventually slowed down.
Despite slashed prices in September, iPod sales continued to slump, falling 8% to 21 million for the quarter.
Some experts believe the iPhone is destined to encounter the same fate as the iPod and that it's just a matter of time before iPhone sales level off. Last month, data tracker comScore released a study that showed interest in the iPhone plateauing, with other devices gaining in popularity.
"As awareness grows about Apple's competitors, they'll start taking away share from the iPhone," said Michael Grossi, director of tech industry consulting company Altman Vilandrie & Co. "The iPhone's not the only game in town any longer."
Others believe that the iPhone will continue to grow, since there are many potential customers who have not yet purchased a smartphone. There are rumors that the iPhone will soon be available on the Verizon (VZ, Fortune 500) network, which would give Apple access to millions of potential new customers who were holding out because of Apple's exclusivity deal with AT&T (T, Fortune 500).
"Apple still has a fair amount of headroom with the iPhone given how big the market is," said Barry Jaruzelski, an analyst at Booz & Co. "That's one of the reasons why a cell phone was an obvious choice to fill the gap left by leveling-off iPod sales."
Either way, Apple is most likely looking to its much-rumored tablet computer to become its next revolutionary product -- and cash cow.
Apple has remained mum about the device and has not officially confirmed that it even exists. But analysts who have been briefed on the device say it will have a 10-inch screen and retail for about $800 to $1,000.
Although some analysts believe the device could revolutionize the handheld world in the same way the the iPhone changed the smartphone market and the iPod changed the way we listen to music, others are skeptical that consumers will want to carry around a tablet.
Price could be an issue as well: Apple typically prices its products higher than competitors, but that strategy has hurt them before. When the iPhone originally debuted at $599, Apple priced out many customers. The company was forced to slash the price by $200 just two months later.