Scrapped auto dealers file flood of appeals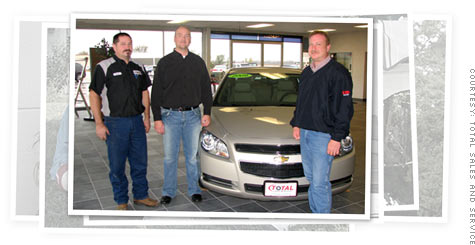 NEW YORK (CNNMoney.com) -- More than half of the auto dealers cut by General Motors and Chrysler last year plan to take their case to arbitration and attempt to regain their franchise.
Around 1,550 dealers met Monday's midnight deadline to file an arbitration request with the American Arbitration Association, according to India Johnson, senior vice president of AAA. An official count will be finalized later this week, and cases will be heard over the next five months.
"We expected a lot less," Johnson said. She suspects that some dealers still mulling an appeal submitted arbitration applications to buy time.
"We aren't thinking 1,500 arbitrations are going to take place," she said. "We are thinking some number in the hundreds, but not 1,500."
Chrysler said it doesn't expect to have a final count of arbitrating dealers until later in the week. "The deadline was yesterday, but we expect some filings that were mailed yesterday to be received today or tomorrow," a company spokeswoman said.
General Motors also doesn't have a final tally yet.
"We really didn't have a good sense of what that number would be," said Ryndee Carney, GM's manager of dealer communications. "We thought it would be a substantial number."
An expensive gamble: The appeal process will be pricey. Each dealer has to pay $1,625 to enter arbitration, with a matching amount due from the manufacturer. If the case then moves to a hearing -- meaning the parties decide not to settle -- the dealer has to pay another $625, half of the $1,250 fee the AAA charges to coordinate a case. Legal fees will add thousands more to each dealer's costs.
But dealers planning to appeal say it's worth it for the chance to save their businesses.
"The loss of the Little Rock dealers makes no sense," said Ethel Cook, the co-owner of Cook Automobile Company -- formerly Cook Jeep Chrysler.
Cook's great-grandfather opened the Arkansas dealership in 1914, and her father began selling Jeeps just after World War II. In May, Chrysler dropped the guillotine on 789 dealers, including Cook. She had less than 30 days to wind down her new-car franchise. Half of her 30 person staff was laid off.
Cook continues to operate a scaled-down business, selling used cars and doing repair work. Her competition across town -- a big, shiny megadealer -- was also given the axe.
"Little Rock is a major metropolitan city, and it is without a dealer at this time," she said.
Chrysler doesn't plan to neglect the market. A new dealership is already under construction. But from Cook's perspective, favoritism guided Chrysler's decisions about which dealers to terminate.
"It smells really fishy," she said.
In Le Mars, Iowa, Brent Brownmiller is also planning to fight to save a dealership he bought just last year, after coveting it for more than a decade.
"It has been here for a long time and there is a lot of loyalty to this dealership," said Brownmiller. "This is a big Chevrolet town, and there is a lot of business."
Once called Nuebel Chevrolet, the business was renamed Total Sales and Service. So far, Brownmiller has been able to keep all of the dealership's staff and is running a repair shop and used-car operation. He's working with former owner Lynn Nuebel on his appeal. Everyone is ready to ramp right back up to selling new cars and performing repair work under warranty if they regain the General Motors franchise, he said.
"I think we have a very good chance, with the way things are set up as far as location, customer demand and marketability," Brownmiller said.
Arbitrators have a list of seven factors to consider in evaluating dealers' appeals. They will assess the dealer's profitability over the past four years, the dealership's current economic viability, the geographic and demographic characteristics of the dealership's territory, and the length of time the dealership has been in business, among other factors.
Brownmiller estimates that arbitration will cost him around $15,000 in legal fees and other expenses. Cook is out $10,000 already in upfront costs and expects to pay around $40,000 if her appeal is successful.
But Cook says she has no other option but to try.
"I have no other way to think but positive. I wouldn't be doing this if it weren't my fiduciary duty, for the love of the customer," she said. "It is uncharted waters -- it has been that way from the beginning. We are making history."