Budweiser Clydesdales on ice for Super Bowl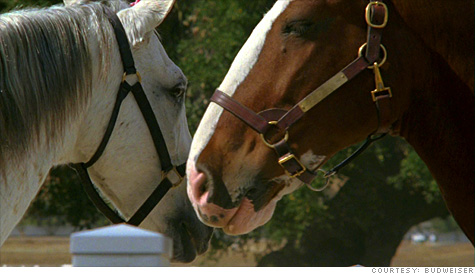 NEW YORK (CNNMoney.com) -- The brewer of Budweiser has sidelined its venerable Clydesdale horses for Super Bowl XLIV, but said their absence is temporary.
The brewer filmed an ad featuring the distinctive horses for the Super Bowl, but it didn't make the cut, an Anheuser-Busch spokesperson said.
But fans of the horses need not fear. "The Clydesdales are certainly not going away," said the spokesperson. "They will continue to be part of the Budweiser brand."
Teasers for eight ads can be viewed on the Anheuser-Busch Web site. The ads emphasize low-calorie beers such as Bud Light, Bud Select 55 and Michelob Ultra.
Anheuser-Busch is now in its 22nd consecutive year as the Super Bowl's exclusive beer advertiser, and the Clydesdales have appeared in ads for every game since 2002, according to the company.
The Clydesdales have served Anheuser-Busch as advertising icons for decades -- not only in televised ads, but also in up-close visits at parades and the company-affiliated theme parks in Florida and Virginia.
Clydesdale ads featured prominently in Super Bowl 2009. An ad about a love affair between a Clydesdale and a circus horse scored high marks with viewers in a USA Today popularity contest.
In an interview leading up to the 2009 game, former chief creative office Bob Lachky touted the horses' importance as symbols of stability and tradition.
"We're going to have more Clydesdales spots in this game than we've ever had before," said Lachky in January 2009, two months after Anheuser-Busch was sold to Belgian brewer InBev -- and shortly before he left the company in February. "We're trying to reassure the viewer, and our consumer, that we're here and we're strong and we're never changing."
Anheuser-Busch (BUD) has purchased five minutes worth of ads from broadcaster CBS (CBS, Fortune 500). The brewer wouldn't say how much it spent, but CBS is charging up to $3 million per 30-second spot.
Not only are the horses discreetly missing from the brewer's sneak peaks, but it has moved on from its short-lived "Drinkability" campaign. The spokesperson said that theme has evolved into the "Here we go" ad campaign.
For this year's game, Anheuser-Busch uses a "Lighthouse" built from Bud Light cans to connect with viewers, as well as island castaways who bear a strong resemble to the cast of ABC's "Lost."
This year's Super Bowl, between the Indianapolis Colts and the New Orleans Saints, takes place Feb. 7 at Sun Life Stadium near Miami. The facility in Miami Gardens, Fla., formerly called Dolphin Stadium, was recently renamed.