Apple iPad sends stock down - then up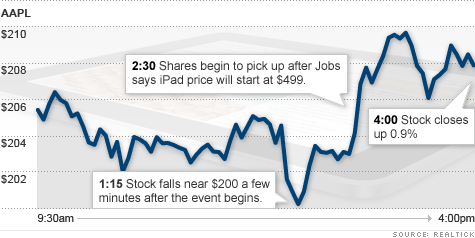 NEW YORK (CNNMoney.com) -- The debut on Wednesday of Apple's long-awaited tablet sent the company's stock on a wild ride.
Apple shares fell 4% immediately after CEO Steve Jobs unveiled the Apple iPad, a touch-screen tablet computer that runs apps from the iTunes store and boasts a 10-hour battery life.
But shares recovered a little over an hour later and rose 1% after Jobs announced that prices would start at $499.
The volume of trading was more than three times the normal daily average, reaching 61 million versus the typical daily average of 19.5 million.
"What this device does is extraordinary -- the best browsing experience you've ever had. Way better than a laptop," Jobs said as an invite-only event in San Francisco got underway.
But about 45 minutes into the event, the market was not impressed. Shares of Apple (AAPL, Fortune 500) slid as low as $199.53 before regaining some ground. By 2:25 p.m. ET, shares were up 1% and managed to hold those gains, ending the day at $207.88.
Historically, the company's stock price has lulled or sold off slightly immediately following product releases. Analysts have a median price target of $250 for Apple's stock.
Shares had been on a tear since the stock market's nadir in March 2009. On Monday, Apple reported a record sales rise of 32% to $15.7 billion in the first fiscal quarter of 2010, well above analyst forecasts. That marked the second straight quarter of record sales.
But some analysts caution that Apple shares could stumble, as the iPhone may start to see sales level off. Others are skeptical about the consumer appeal of a tablet, citing portability concerns and asking whether the device is anything more than a gigantic iPhone.
But Carl Howe, director consumer research at industry analysis firm Yankee Group, said Apple is able to post high earnings and should continue to do so because of three factors: unique devices, quality applications/services, and productivity.
"[Apple has] a have a great track record for making you want -- and buy -- things you thought you didn't need," Howe said.