Cries grow for banks to boost dividends
NEW YORK (CNNMoney.com) -- With many banks posting big profits again and paying hefty bonuses, investors are starting to wonder when their bonus, a quarterly dividend, will increase.
Banks used to issue healthy dividends but the credit crisis and recession changed that. Now that banks are showing signs of recovery, shareholders are starting to get anxious.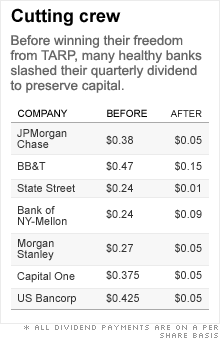 During JPMorgan Chase's latest earnings conference call, for example, executives at the firm were quizzed more than once about when the company might move to reinstate its once-lofty dividend. The nation's second largest bank slashed its quarterly payment by 87% last year to just 5 cents a share.
JPMorgan Chase (JPM, Fortune 500) CEO Jamie Dimon said he was hopeful the bank would increase its dividend but warned investors to not expect a big bump anytime soon. He said the company would be "lucky" if it could raise the dividend by the middle of 2010.
"Once you see a recovery and earnings start to go up, there will be plenty of excess capital," he said. "That is when you might see us raise the dividend."
Experts argue that banks aren't just paying attention to the direction of the U.S. economy when deciding what to do with their dividends. There has been speculation that regulators are keeping a tight leash on banks, particularly when it comes to spending all-too-precious capital.
Top bank executives have also repeatedly said they are reluctant to raise their dividends at a time when U.S. lawmakers are still trying to draft the new rules of the road for the industry.
"The appropriate level is still a moving target," said Kevin Toney, portfolio manager of the American Century Equity Income Fund. "I'm not sure [banks] want to get ahead of that."
And if the latest financial results from banks are any indication, capital-draining loan losses remain reason enough for banks to keep their dividend at depressed levels.
The unkindest cut. As loan losses began to intensify in the wake of Lehman Brothers 2008 collapse, many lenders took an axe to their dividend payments last year in an effort to insulate their balance sheets.
Before the crisis, banks and financial firms accounted for approximately 30% of all dividends paid out by companies in the S&P 500. Nowadays, that number stands at about 9%, said Howard Silverblatt, senior index analyst at Standard & Poor's.
Banks have hardly taken the cuts lightly however. When Southeastern regional giant BB&T (BBT, Fortune 500) moved to cut its dividend last May, CEO Kelly King called it "the worst day" in his 37-year career.
Other large banks also realize that lower dividends may hurt current and former employees, particularly ones that have significant stock holdings, said Lisa Walker, director and portfolio manager of the BlackRock Global Financial Services Fund.
"There is definitely a very big interest [by banks] in restoring the dividend," she said.
But experts said that only the nation's strongest banks, such as JPMorgan Chase and US Bancorp (USB, Fortune 500), might be capable of pulling it off a dividend hike.
Neither firm has recorded a loss and, in fact, both have used their earnings to help boost their respective Tier 1 capital ratios, a closely-watched measure of a bank's ability to absorb losses.
Still, it is doubtful that any bank will raise their dividends to pre-recession levels. As bold as JPMorgan was in stating it hoped to boost its dividend this year, the bank said it only anticipated that it would reach 75 cents to $1 per share a year, far below the $1.54 a share it paid out before the crisis.
"[Banks] grew their dividends too fast then," said American Century's Toney. "As we saw, those levels were not sustainable."