Wilmington pins hopes on stimulus
WILMINGTON, Ohio (CNNMoney.com) -- In downtown Wilmington, a brightly colored flag with the word "OPEN" serves as a sign of both hope and despair.
Hope because a new business has opened when so many others have closed.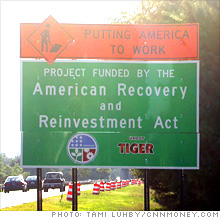 Despair because the need for the consignment store Next to New shows how much people are hurting here.
"They come in and they'll bring the clothes, and they'll call me later on and they'll hope that things sold because some of them need food for their family," said Eric Wogomon, the store's owner. "Some of them need money for gas to get to work."
Wogomon himself is a symbol of how the economic devastation has torn through Wilmington. He opened the store with his wife Sandy in May after they both found themselves unemployed. Sandy was among more than 8,000 people who lost their jobs when DHL left town and shipping business at the town's airpark screeched to a halt.
"We went from 3% unemployment to 15% unemployment in eighteen months," said David Raisk, the mayor of Wilmington.
While the airpark had employed workers from dozens of Ohio counties, Wilmington felt the brunt of the impact since restaurants and other small businesses that depended on the airpark have crumbled. Raisk said he doesn't know how many people have left Wilmington, but he's determined it won't become a ghost town.
Raisk has turned to Washington for help.
The mayor's office applied for more than $61 million in stimulus funding. So far, the biggest award is an approximately $5.1 million project, set to begin in the spring, that will create at least 100 jobs, Raisk said.
Fixing up downtown
The aim is to improve curbs, gutters and sidewalks in Wilmington's downtown, a move he hopes will attract businesses. The jobs, as most of those funded with stimulus, are temporary.
"It's something," Raisk said. "The only frustration that I have I think is that I want things to happen faster than I know in my heart that they will happen." But the creation of 100 jobs makes only a small dent in the thousands without work. Many residents have taken part in retraining classes paid for by $8 million in stimulus money.
To create more jobs, Raisk is counting on redeveloping the airpark.
Earlier this month, DHL announced it intends to donate the property to the community in a move expected to be finalized in late February. While it provides hope, it can't do much right now for people like 34-year-old Andrew Michael.
Michael had to move into Clinton County's Homeless Shelter in November because he lost his job and his father could no longer help him since he also is unemployed. The Wilmington native is now working part-time at a restaurant and cleaning service.
"I always thought that this was a place that I could have a job and keep that job," Michael said. "I always thought that I would have a home to live in, and that changed".
Just about everything has changed in Wilmington. Foreclosures are high and "For Rent" signs dot the streets because homes aren't selling. And natives like Steve Brown, who heads a revitalization project called Main Street Wilmington, dread seeing the "Out of Business" signs go up. "It's a dagger to the heart," he said. "I take it personally".
The ripple effects range from the obvious to the not so obvious. At the Community Care Hospice, which provides end of life care, President Mary Houghtaling said that donations to organizations like hers have seen a big drop. "I care about the people that have lost their jobs having to come to me with no health insurance and us covering the costs of it," she said.
Through the struggles, a current of hope runs through the town. "Everyone in this town had to sacrifice or cut back" said Mayor Raisk. "I think about those people and my heart breaks for them. I know that it gives me the courage to go on and say I have to do my best for them"