Gay dating site's Super Bowl ad rejected by CBS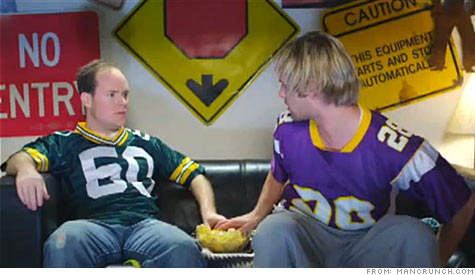 NEW YORK (CNNMoney.com) -- Super Bowl network CBS rejected an ad Friday from ManCrunch.com, a gay dating Web site.
"After reviewing the ad, which is entirely commercial in nature, our standards and practices department decided not to accept this particular spot," said CBS spokeswoman Shannon Jacobs. "We are always open to working with a client on alternative submissions."
CBS (CBS, Fortune 500) said it turned down the ad partly for financial reasons, but ManCrunch believes that there's more to it than that.
"It's straight-up discrimination," said Elissa Buchter, spokeswoman for the Toronto-based dating site.
Jacobs of CBS declined to comment on the charge of discrimination.
Buchter provided a copy of the CBS rejection letter to CNNMoney, which states that the ad "is not within the Network's broadcast standards for Super Bowl Sunday."
The letter also states that the CBS sales department "has had difficulty verifying [ManCrunch's] credit status."
Buchter said that basing the rejection on credit status doesn't make sense because "we offered to pay cash." But Jacobs said CBS has no record of any such offer.
CBS is charging up to $3 million for 30-second spots. Buchter said ManCrunch would have been charged $2.5 million for its ad and would have had no trouble paying it, since the newly formed company recently raised $40 million from investors.
Shortly before ManCrunch announced the rejection, Jacobs of CBS said her company was reviewing the ad and it was "just one of many."
Jacobs also said the spots were "virtually sold out. We have one, maybe two spots left."
ManCrunch's ad, which can be viewed on its Web site, shows two men watching the Super Bowl. Their hands brush each other in the potato chip bowl, which inspires a passionate, male-on-male make-out session.
ManCrunch is not alone. Godaddy, an online retailer of Web site domain names, is running an ad in the Super Bowl this year but it had another ad rejected by CBS in the process. The rejected ad features a man named Lola.
This year's Super Bowl, between the Indianapolis Colts and the New Orleans Saints, will be played Feb. 7 at Sun Life Stadium near Miami. The facility in Miami Gardens, Fla., formerly called Dolphin Stadium, was recently renamed.