Toyota's sales could shift into reverse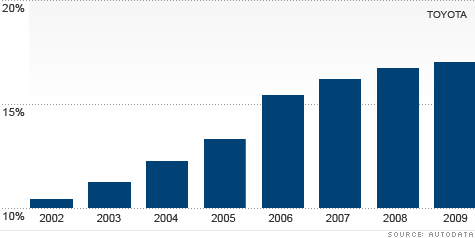 NEW YORK (CNNMoney.com) -- When it came to capturing U.S. market share, Toyota Motor had the pedal to the metal for years. But now, problems with a sticking gas pedal could throw its sales into reverse.
The halt of sales and production of the company's most popular U.S. models will cause this month's sales to tumble 12% compared to January 2009, according to a forecast from sales tracker Edmunds.com.
Michelle Krebbs, senior analyst for Edmunds.com, said that if not for this week's problems, Toyota's sales would have been up at least slightly for the month.
The expected drop could send Toyota's market share below 15%, which would be its lowest level in nearly four years.
Most of Toyota's rivals, on the other hand, are expected to post higher sales compared to a year ago. Ford Motor (F, Fortune 500), which reported its first market share gain in the U.S. since 1995 last year, is expected to pass Toyota (TM) in market share in January, according to Edmunds.com's estimates.
Ford joined General Motors and other automakers trying to capitalize on Toyota's problems, offering an extra $1,000 to buyers who trade in Toyotas when purchasing a new car.
That could be a big problem for Toyota.
"People buy Toyotas for their bullet-proof reliability. That was their main selling point, and that's taken a huge hit," said Krebbs.
Even when Toyota fixes the gas pedal problems, it is likely to have trouble gaining back share, some say. If the company loses market share this year, that would be the first decline since 1994.
Art Spinella, head of CNW Market Research, said Toyota should be worried about lasting damage to its reputation.
"This is a game changer for Toyota," he said. "They have some serious, serious work to do to repair the damage done to their image."
Spinella said Toyota was already more vulnerable than many believed. His firm's consumer survey from mid-January showed Toyota had already fallen from its traditional position of first or second in quality estimates of potential buyers to seventh. Apparently, recalls that began late last year are having an impact.
"This was just the latest recall problem for Toyota," said Spinella. "Word of mouth is the key for all of this, and always has been. And it's much tougher to move back up the list than to fall down."
Toyota spokeswoman Sona Iliffe-Moon said the company won't comment about any potential hit to sales and market share before its scheduled release of January sales on February 2.
"Clearly there will be a sales impact with the stopped sales," she said. "Really, right now our focus is working on a remedy."
Staff writer David Goldman contributed to this report