Why Obama's export push won't save jobs
WASHINGTON (Fortune) -- In one of his many applause lines at Wednesday night's State of the Union address, President Obama emphasized the importance of American exports: "Tonight, we set a new goal," he said, "We will double our exports over the next five years, an increase that will support two million jobs in America." It's no surprise that people cheered; what's not to like? There's just one problem: Growing exports is almost entirely out of the president's -- and even business's -- hands.
It's not that the growth he's calling for is impossible. Since 1960, the U.S. has seen two periods of fast, sustained growth. From 1970 to 1975, exports more than doubled, going from $56.6 billion to $132 billion. Then from 1976 to 1981, they doubled yet again, from $142.7 billion to $294.4.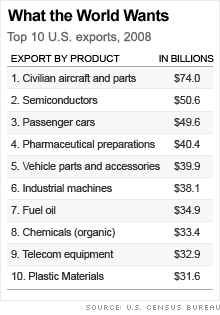 More recently, the U.S. saw a 68% surge in exports between 2002 and 2007 to $1.1 trillion. (The latest figure for goods exported: $1.3 trillion.) Much of the more recent growth came from the meteoric rise of countries like China and India. The United States' chief exports -- sophisticated manufacturing items like planes and semiconductors -- benefited from the countries' need to rebuild (or, in many cases, to just build) nationwide infrastructures.
But a nation can only stock up on so many Caterpillar tractors at a time. Then the demand inevitably slowed. To get back to the mid 2000s-kind of growth, the U.S. would have to bank on other countries' stimulus plans working flawlessly.
There are other paths to export success that involve less brute growth and more finesse. China's trade partners have long complained about the country's unwillingness to let the renminbi exchange rate float -- right now it's pegged to the U.S. dollar -- which makes China's exports look cheaper and U.S. imports to the country more expensive.
Address this in China and in other countries in Asia with similar practices, and demand for U.S. products abroad could rise. One economist, Gary Hufbauer, a research fellow at the Peterson Institute for International Economics, estimates that if China were to let the RMB rise by 25%, and if Hong Kong, Singapore, and a few of China's other neighbors were to do the same, the U.S. would see a 5% increase in goods exported.
"Heavily undervalued currencies are doing the most damage to U.S. trade and U.S. exports," says Robert Scott, director of international programs at the Economic Policy Institute. "That is really our number one unfair trade problem."
Another way to spur exports is to encourage smaller companies to send their goods abroad. According to Dan Griswold, director of the Center for Trade Policy Studies at the Cato Institute, small businesses account for 30% of total U.S. exports.
On Wednesday night, Obama mentioned in passing he would create a National Export Initiative focused on helping farmers and small businesses sell their goods overseas. While the details have yet to be hammered out, Hufbauer suggests the administration needs to provide incentives to banks to allow more lending to small businesses that are pursuing greater exports.
Would that be enough? Any plan would have to account for how difficult it can be for smaller businesses to operate abroad. Even in the Skype and email era, discovering which markets will want what goods and then building relationships over long distances and countless time zones with potential buyers is enormously difficult -- especially when the exporter's production volume might not be very high.
The difficulty in aiding such small players explains why the government in the past has spent so much time and money on the largest, most capital-intensive industries.
A study by the Pew Charitable trust in November found that about 65% of the nation's Export-Import Bank's loan guarantees -- the main arm of the government that helps promote exports -- went to just one company: Boeing (BA, Fortune 500). Not surprisingly, the Aerospace Industries Association released a statement today voicing their support for Obama's goal: "We're very pleased that President Obama is making it a priority this year to double exports, enforce trade agreements and reform export controls consistent with national security."
In the end, the problem of creating jobs is so thorny that growing exports will only do so much. As Griswold points out, the health of the U.S. job market is determined mostly by domestic demand. If Americans aren't spending, there will be fewer jobs here, regardless of what's happening abroad. "[Raising exports] is not going to be a magic bullet for bringing down the unemployment rate," says Griswold.