Toyota's loss: Ford's and Hyundai's gain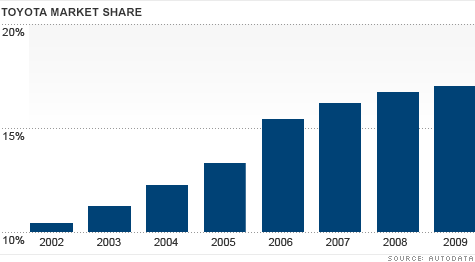 NEW YORK (CNNMoney.com) -- Who will benefit from Toyota's woes?
At a press conference Monday to announce the fix for more than 5 million recalled vehicles, Jim Lentz, president and chief operating officer of Toyota Motor Sales U.S.A., promised the company would return to its commitment to quality.
Still, many believe that despite the gas pedal fix, Toyota (TM) may lose market share in the U.S. this year for the first time in 16 years. Simply put, Toyota can no longer claim to be the highest quality automaker.
"If you look at the quality gap today compared to ten years ago, it isn't there any more. It's more of a perception gap," said Jesse Toprak, vice president of industry trends for car pricing site TrueCar.com.
Art Spinella, head of CNW Market Research, said Toyota's gold-plated reputation had already been punctured by less serious recalls even before this problem. He said it will take a lot of time for Toyota to get back the reputation and loyalty it had until recently.
"The fall was quicker than the rebound will be. That's for sure," he said, adding that he thinks Ford (F, Fortune 500) and Hyundai are well positioned to gain from Toyota's stumbles.
Michelle Krebs, senior analyst with car sales site Edmunds.com, senior analyst with car sales site Edmunds.com, agreed that these two should benefit the most from Toyota's problems.
"Ford and Hyundai were already gaining on [Toyota]," Krebs said. "If you look at what Ford did in '09, they slashed the [market share] gap between Toyota and themselves by half. They may well pass them this year."
Spokespeople at Ford and Hyundai had little or no comment Monday when asked about whether they expected to gain market share at Toyota's expense.
Honda and GM could benefit too. Japanese rival Honda Motor (HMC) is also well positioned to profit from any Toyota mishaps. It traditionally is the brand that auto buyers look at most often when also considering whether to buy a Toyota.
But Honda spokesman Chris Naughton said the company has not seen any unexpected surge in customer traffic in its showrooms since the Toyota recall was announced.
Other experts said that GM, in addition to Ford, could gain ground at Toyota's expense. Some suggested that GM, which has lost market share to Toyota every year since 1989, could even see its ever-narrowing lead in U.S. auto sales grow once again this year.
"People are more likely to expand their search. They might have not considered an American car before," said William Baker, professor of marketing at San Diego State University. "This is potentially a very good thing for GM."
But experts said a "buy American" move may not help the other member of Detroit's Big Three. Chrysler Group does not have the competitive product to benefit from Toyota's troubles. Similarly, European automakers and Japanese rival Nissan are not expected to report any significant improvement in sales.