Obama maps route to lower deficits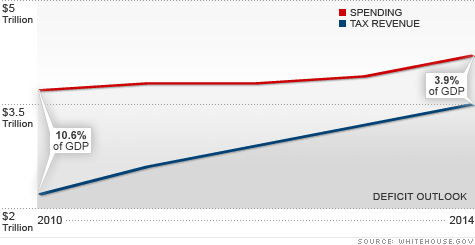 NEW YORK (CNNMoney.com) -- In his $3.8 trillion budget for next year, President Obama on Monday laid out how Congress can lighten the country's debt load.
Specifically, he outlined a plan to reduce the nation's debt by $1.2 trillion over the next 10 years, and to get annual deficits as a percent of the economy down from 10.6% today to 3% by 2015.
His plan consists of seven main pieces, some of which bank on some big assumptions:
Let economy recover: When the economy recovers, more people will have jobs and therefore more taxable income. Economic recovery alone is expected to reduce the deficit-to-GDP ratio to 5% by 2015, said White House Budget Director Peter Orszag in a conference call with reporters.
Stop digging the debt hole deeper: Part of fiscal responsibility going forward, Orszag said, is to not make the problem worse. In that vein, the president supports legislation just passed in the Senate that would impose rules legally requiring lawmakers to pay for proposed tax cuts or spending increases by raising taxes or reducing spending elsewhere in the budget.
So-called "paygo" rules don't reduce debt already accrued, but they put the brake on future increases -- a helpful first step, budget experts say.
"We can't continue to spend as if deficits don't matter," Obama said at a briefing on Monday.
That legislation has yet to pass the House, but may come to a vote this week. If passed, the new rule could curb deficit increases, but it won't do so entirely because the legislation excludes a number of expensive policies, including the cost of a permanent extension of middle class tax cuts.
It also exempts what lawmakers might deem emergency spending to respond to an economic downturn, a terrorist act, natural disaster or other unforeseen event.
Let 2001-2003 tax cuts expire for high-income households: The Bush tax cuts are scheduled to expire by 2011. As it has promised all along, the Obama administration would like to keep those tax cuts in place for everyone except the highest-income households.
It estimates nearly $700 billion will be raised over 10 years by letting the cuts expire for the wealthiest Americans.
Impose a spending freeze: The president proposed a three-year freeze on non-defense discretionary spending, which accounts for $447 billion, or roughly 13%, of the 2010 federal budget. The freeze, which wouldn't start this year, is estimated to save $250 billion over 10 years.
The biggest assumption here is that Congress will go along. As it is, there has already been some pushback from key Democrats who control the purse strings.
Impose new bank tax: The president is calling on Congress to impose a "financial crisis responsibility fee" on the largest banks to ensure that U.S. taxpayers don't lose a penny from the federal bailout of the financial, auto and insurance industries over the past year. The administration expects it will raise $90 billion over 10 years.
That assumes that Congress structures the tax accordingly, which is not a given yet.
Kill fossil-fuel tax break: The president's budget is calling for an end to fossil-fuel tax subsidies for oil, gas and coal companies, a move estimated to raise roughly $40 billion over 10 years.
The president called for repealing similar tax benefits for fossil-fuel energy producers in his proposed budget last year, which is something Congress didn't act on. So how much appetite there will be for doing so now isn't clear yet.
Create a bipartisan fiscal commission: In addition to economic recovery, the expiring tax cuts, spending freeze, bank tax and elimination of fossil-fuel subsidies would bring the annual deficit down to 3.9% of GDP by 2015, Orszag said.
But the bar for stabilizing debt is 3% of GDP. To reach that level, the president will rely on a bipartisan fiscal commission he will create by executive order.
The commission, which would be made up of Democratic and Republican lawmakers as well as members of the administration, will be charged with two things: proposing ways for Congress to stabilize the debt at 3% of GDP by 2015, excluding the cost of interest owed on the debt; and putting forth its recommendations to Congress for spending cuts and tax increases that can be made to get the country's longer term fiscal situation stabilized.
But how seriously the commission is taken and how effective it can be is entirely up to lawmakers. There has already been pushback from Republicans, who have said they believe such a commission would either be toothless or too partisan to be credible.
And while Congress is likely to vote on the commission's recommendations, they may choose to amend them. Given how ideology far more than common sense has driven the deficit debate in both parties, it's anyone's guess how effective such deficit-reduction measures will be if they're amended to appease various interest groups.
How the experts react
Deficit hawks are happy the administration is raising the issue of debt reduction and making it a point of national discussion. But as for the specifics that the administration is proposing, they say they're only a tepid start relative to the problem at hand.
"A small spending freeze, some minor tax reforms to raise revenues, and a budget commission are all excellent ideas," said Maya MacGuineas, president of the Committee for a Responsible Federal Budget.
"But this budget doesn't go nearly far enough, and it will require presidential leadership to develop a responsible fiscal plan. This has to be the start -- not the extent -- of-the President's push to implement a strategy to dig us out of this fiscal hole," she said.