How to score the few remaining beach vacation deals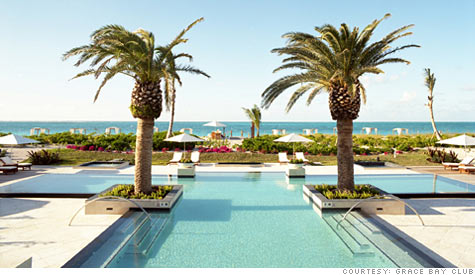 (Fortune Magazine) -- It wasn't so long ago that travelers could all but name their price. During the depths of the financial crisis, unheard-of deals abounded as hotel companies did anything to lure business. These days? Not so much. The luxury travel market is coming back, with bookings up as much as 40% since mid-2008. You can still find deals this winter; you just need to think creatively -- and follow our tips.
Group up
Staying in a luxurious villa with butler service may seem out of reach with its four-figure-a-night price tag, but vacationers have been increasingly booking midwinter beach escapes en masse -- think big groups of friends or, for the steel-nerved, extended families -- which can make this option affordable.
High-end hotels have responded by building more villas, sprawling multiroom homes often outfitted with lavish amenities like private pools and personal chefs.
Many of the new facilities opened their doors in the midst of the financial crisis, when upscale travel was at a standstill, and their relatively reasonable rates continue into 2010.
Banyan Tree Mayakoba
In the North American debut of the Asian, Zen-inspired luxury chain, the Banyan Tree Mayakoba opened last year in Mexico's Riviera Maya as an all-villa hotel with 132 one- to three-bedroom units.
Starting this month, it's offering a "family occasions" package, which starts at $1,200 a night for a two-bedroom villa and includes breakfast, a boat tour, and family activities like a barbecue and movie night.
Grace Bay Club
Last year this upscale resort in Turks and Caicos introduced the Estate, a resort within a resort consisting of 22 three- and four-bedroom villas that start at $2,200 per night. That's high, but the units are spacious, ranging from 3,700 to 4,700 square feet, and through mid-April the resort is offering a "stimulus" promotion in which the fourth night is free.
Ask for extras
During the last consumer-spending crisis, after 9/11, hotels learned a tough lesson: If you lower rates, it's very, very hard to raise them again. So this time properties have been piling on extras instead.
"It lets them keep their brand integrity intact," says Scott Berman, partner in the leisure and hospitality group at PricewaterhouseCoopers. "By throwing in a resort credit, a spa treatment, or some meals, the hotel comes up financially ahead." Travelers do well too: The extras can add up to the cost of a night or more.
Ritz-Carlton
Most of the company's properties in the Caribbean are giving daily credits of between $50 and $100 -- a deal previously available only during the slow months. Rates at the Cancún Ritz, for example, start at $609 a night, but guests get $100 a day to use however they like.
Four Seasons
The Canadian-based luxury brand is piling on extras too: In Costa Rica guests staying three nights get credits starting at $100 per day; rooms start at $595. Book a villa at the Bali property, which starts at a pricier $680, and you'll get your own butler, a car and driver -- and free ironing.
Venture abroad
Want to get away -- really, really far away? This may be the year to do it. Exotic beach spots in formerly off-limit locales are becoming accessible again, while remote resort properties everywhere are offering steep discounts to bring vacationers back.
Aman Resorts
The Singapore-based chain is known for its minimalist style, small number of rooms, and a nearly four-to-one staff-to-guest ratio.
It normally commands four-figure rates for one night at many of its properties, but its two hotels in Sri Lanka were inaccessible until recently because of the country's civil unrest. But the military conflict ended last May, and travelers can now take advantage of an absurdly low starting price of $350 a night at Amanwella, a resort on a pristine and undiscovered beach a few hours from the city of Galle (300 miles from the strife, at the southern tip of the island).
Or consider the four-night "fort and beach" package, starting at $1,400, which includes two nights in Amanwella and another two at Amangalla, the chain's second Sri Lankan property, housed in a 17th-century fort in Galle.
Chiva Som
In Thailand, a stay at this oceanfront spa used to include a few meals and treatments, but in today's economy, rates include all meals, a daily spa treatment, and a health consultation. A three-night stay starts at $2,000.
Stay close to home
If Sri Lanka sounds a bit daunting, you can do what most travelers this winter plan to do: Stay close to home. Roughly 70% of travelers expect to go domestic and visit a U.S. state or city, according to a study by Deloitte & Touche; a survey from the U.S. Tour Operators Association found that three out of four Americans planned to travel for a vacation in 2009, but that 42% wanted to stay near home.
Indeed, with the economy still slow, many work-worn travelers are looking for a short stay and an even shorter flight. Since this category is the most thriving in travel these days, it's harder to find truly spectacular deals, but we dug up a few.
Mexico
Swine-flu fears all but froze tourism here last year, but the country is now making an aggressive marketing push -- with many upscale hotels offering a night free during peak season.
Take your pick: The St. Regis Punta Mita is offering a free fourth night and breakfast for rooms that start at $489 per day; the Mandarin Oriental in Riviera Maya has a similar deal starting at $555 a day; and in a rare peak-season discount, stay four nights in the Rosewood Mayakoba and the fifth night is free.
Stateside
If you don't want to leave the continental U.S., Sea Island, the stately, 80-year-old Southern golf resort on five miles of private beach in Georgia, is offering a fourth night free (rates start at $450 a day).
Or mingle with celebrities at the Setai in Miami's South Beach: The chic hotel almost never lowers rates, but it's giving a 15% discount on rooms booked 30 days in advance; book 60 days ahead and save 20%. It might require you to plan a little earlier than usual, but if the economy starts to do any better between now and then, you'll be glad you did.