Music's lost decade: Sales cut in half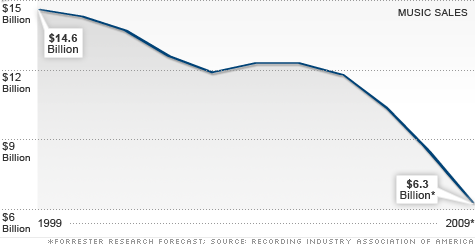 NEW YORK (CNNMoney.com) -- If you watched the Grammy Awards Sunday night, it would appear all is well in the recording industry. But at the end of last year, the music business was worth half of what it was ten years ago and the decline doesn't look like it will be slowing anytime soon.
Total revenue from U.S. music sales and licensing plunged to $6.3 billion in 2009, according to Forrester Research. In 1999, that revenue figure topped $14.6 billion.
Although the Recording Industry Association of America will report its official figures in the early spring, the trend has been very clear: RIAA has reported declining revenue in nine of the past 10 years, with album sales falling an average of 8% each year. Last decade was the first ever in which sales were lower going out than coming in.
"There have been a lot of changes over the past 10 years," said Joshua Friedlander, vice president of research at RIAA. "The industry is adapting to consumer's demands of how they listen to music, when and where, and we've had some growing pains in terms of monetizing those changes."
The two recessions during the decade certainly didn't help music sales. It's also a bit unfair to compare the 2000s with the 1990s, since the '90s enjoyed an unnatural sales boost when consumers replaced their cassette tapes and vinyl records en masse with CDs.
But industry insiders and experts argue that the main culprit for the industry's massive decline was the growing popularity of digital music.
"The digital music business has been a war of attrition that nobody seems to be winning," said David Goldberg, the former head of Yahoo music. "The CD is still disappearing, and nothing is replacing it in entirety as a revenue generator."
The disease of free
The battle for paying digital customers may have been lost before it had truly begun. In 1999, Napster, a free online file-sharing service, made its debut. Not only did Napster help change the way most people got music, it also lowered the price point from $14 for a CD to free.
"It's pretty easy to give away something for free," said Russell Frackman, the lead attorney for the music industry in its 1999 case against Napster. "It's not that the music industry thought the technology was bad, it just objected to the use to which it was being put."
Apple's (AAPL, Fortune 500) iTunes is credited with finally getting people to pay for digital music, but it wasn't unveiled until 2003.
In the time between Napster's shuttering and iTunes' debut, many of Napster's 60 million users found other online file sharing techniques to get music for free. Even after iTunes got people buying music tracks for just 99 cents, it wasn't as attractive as free.
"That four-year lag is where the music industry lost the battle," said Sonal Gandhi, music analyst with Forrester Research. "They lost an opportunity to take consumers' new behavior and really monetize it in a way that nipped the free music expectation in the bud."
Now just 44% of U.S. Internet users and 64% of Americans who buy digital music think that that music is worth paying for, according to Forrester. The volume of unauthorized downloads continues to represent about 90% of the market, according to online download tracker BigChampagne Media Measurement.
"People will steal music regardless, so it's not worth trying to fight against something where the fight's already over," said Dan Ingala, founder and lead singer of the band Plushgun.
When Plushgun released its album "Pins and Panzers," it was the most downloaded album on the popular peer-to-peer Web site What.cd with more than 10,000 illegally downloaded tracks.
"It's just a matter of adjusting," said Ingala. "At the same time, it's helping us create an audience."
Where we're headed
The problem for the music industry may actually be its greatest opportunity. Despite the great decline in sales, the Internet has exposed consumers to more music than ever before. But that accessibility has been difficult to monetize.
The music industry has tried to keep up by licensing ringtones, licensing music on popular Internet radio stations like MySpace Music and Pandora and licensing music videos on YouTube. Digital licensing revenue reached $84 million in 2009, and it is expected to grow substantially in the coming year. (See correction below.)
Licensing fees don't make up for the volume of total lost sales, but Gandhi says the fact that the music industry is finally embracing these new technologies and revenue streams means the industry is finally getting it.
She said the combined effect of interactive multimedia, a growth in digital licensing and services such as Lala, which was bought by Apple in December, will ultimately help give sales a boost.
"The industry is actively doing a lot of things that are putting us back on the right path," said RIAA's Friedlander. "We're switching to an access model from a purchase model."
Forrester forecasts music industry revenues will continue to decline until it reaches about $5.5 billion a year by 2014, as new revenue sources begin to lift sales again.
Correction: An earlier version of the story incorrectly reported the figure for digital licensing revenue as $84 billion when it should have been $84 million.