Battle brews over hourly jobs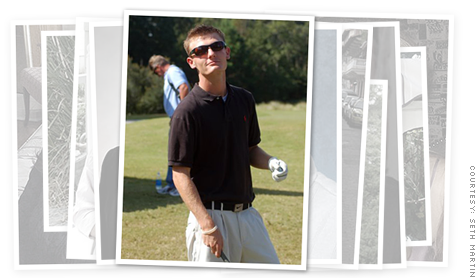 NEW YORK (CNNMoney.com) -- The next time you're asked if you want fries with that, you may be surprised at who's behind the counter.
That's because many out-of-work experienced professionals with no other options are taking jobs, including some hourly-wage positions, that would otherwise go to younger workers with few skills.
As a result, the unemployment rate among 16-24-year-olds has soared, peaking at a record high of 19.2% in October.

Older, experienced workers may be choosing part-time hourly jobs because full-time positions just aren't available, according to Shawn Boyer, CEO of SnagAJob.com, a job search site that exclusively caters to hourly positions. Also, more stay-at-home spouses are choosing to return to the workforce as part-time workers to help make ends meet, he added.
In addition to having a more advanced skill set, they have the advantage of being able to work more flexible hours, which gives them an edge over students, Boyer said.
A win-win for companies
For employers, a glut of more experienced workers willing to take low-paying hourly jobs has been a boon for business.
Cydney Miller is the assistant human resources director for Clarksville Montgomery County school district in Tennessee. She oversees the hiring of teachers and administrators as well as hourly workers including custodians, bus drivers, teacher's aids and substitute teachers, positions which range in pay from minimum wage to $11 or $12 an hour.
She says the shift in applicants for substitute teacher positions is striking.
"People who used to fill those jobs were high school graduates who would otherwise be hourly-type workers," said Miller. "Now, because of the availability of certified teachers, the bulk of substitute teachers in these positions have bachelor's degrees or other degrees. It's really extraordinary."
Miller notes that candidates who would have been competitive in the past are no longer given much consideration. "We are able to fill positions with high qualified people, so why wouldn't we?"
Career, interrupted
But while employers are enjoying the benefit of getting more experienced workers for the same wages, younger workers are paying the price. Students and recent graduates are missing out on opportunities to build basic skills, which could have lasting effects on their career paths.
"It's a problem now but it becomes more of a problem three or four years down the road when you go to get a full-time job and you can't," SnagAJob.com's Boyer cautioned.
Seth Martin, 20, is a college student in South Carolina who has been looking for a part-time position that doesn't conflict with school. Despite having some previous experience in retail, he's been recently turned down at Pier 1, Banana Republic and American Eagle.
"I've always worked but it's hard to get a part-time job now," Martin said of his nearly three-month job hunt. With student loans and living expenses, Martin says he needs to find something soon to make ends meet. "It's definitely crunch time."
Eleventh-grader Jocelyn Quiles is also at the end of her rope. She has been looking for a part-time job since she turned 16 in September.

Despite applying for minimum wage jobs at large employers like McDonald's, Burger King, T.J. Maxx, Marshall's and Stop & Shop around Boston, "none of them seem to be hiring or they don't want to hire me," she said.
Quiles believes her age and her student status are what's keeping her from getting hired.

"They pick you if you are more experienced or if you can work later hours," she said.