Prius brakes: Toyota knew, didn't tell you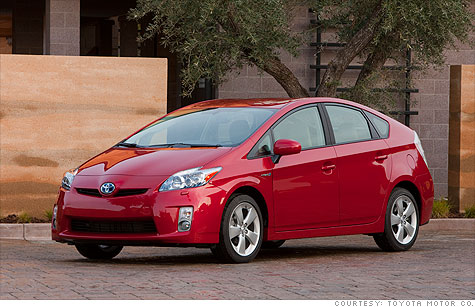 NEW YORK (CNNMoney.com) -- Toyota has known about brake problems in its popular Prius cars for some time, going so far as to fix it in new production vehicles, but has kept Prius drivers in the dark about the problem until the Japanese government called for an investigation.
In the U.S., the National Highway Traffic Safety Administration announced Thursday that it is launching a formal investigation into the Prius brake problems, the first step on the road to a possible recall..
Prius hybrid cars coming off Toyota's assembly line in Japan have had an improved version of the software used to control the cars' brakes since January.
That's little consolation to those driving Priuses made before then which seem to be the source of mounting complaints about brake performance and have been linked to four crashes.
Prior to the revelation on Tuesday that the Japanese government was pushing Toyota to do something about mounting complaints about Prius brakes, Toyota had said nothing publicly about the problems.
As of Wednesday, 124 Prius owners in the United States had lodged formal complaints with the National Highway Traffic Safety Administration about brake problems with their cars. Prius owners in Japan, where the hybrid car is the nation's most popular model, have also lodged complaints about the problem.
A total of four crashes, two involving injuries, have been attributed to poor brake performance in 2010 model year Priuses.
Toyota issued an announcement Thursday saying it was cooperating with NHTSA's investigation.
The complaints have been very consistent. As described by NHTSA's Office of Defect Investigations "Consumers allege a momentary loss in braking during brake applications while traveling over an uneven road surface, pothole or bump in the roadway."
As one driver put it in a complaint posted to NHTSA's pubic Web site, "When braking, if a pothole or bump in the road is hit, the car seemingly jerks forward/accelerates for a split second."
Toyota officials in Japan described the problem as a "disconnect" in the vehicle's complex anti-lock brake system (ABS) that causes less than a one-second lag. At 60 mph, though, a vehicle will have traveled nearly another 90 feet before the brakes begin to take hold.
"The brakes become a little slow when you are using light braking under certain road conditions," Toyota managing officer Hiroyuki Yokoyama said. "But if you continue to step on them, the car will stop safely."
Yokoyama denied that Toyota was trying to cover up problems with the Prius's brakes, according to a report by the Wall Street Journal. The issue was handled as are most general quality problems, he said.
The software change was part of what Toyota called "constant quality improvements," Toyota executives said.
"Currently we are considering ways to explain this to our customers," Yokoyama said at a Japanese press conference. "Please give us time, we would like to come to a conclusion as soon as possible."
Brakes in hybrids such as the Prius operate differently from brakes in most cars. In addition to standard brakes, which use friction from pads pressed against drums or rotors, the electric motors in hybrids also help slow the car. The process also generates electricity to recharge the batteries.
Complex moment-by-moment calculations are needed to coordinate the two separate braking systems in order to provide smooth braking performance.