Rebuilding a shattered economy, $50 at a time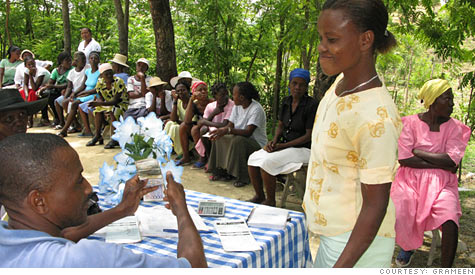 (CNNMoney.com) -- As Haiti continues to dig out from the earthquake that leveled Port-au-Prince, local microlenders are gearing up to begin rebuilding the country's shattered economy.
International aid groups have been "focusing on supplying food and shelter," says Daniel Jean-Louis, a business professor at the State University of Haiti and Quisqueya University who also works as a consultant for local business groups in Port-au-Prince. "Nobody has talked yet about businesses resuming and people getting back to work."
Finding work has always been a struggle in Haiti, where the per-capita income averages less than $2 a day and estimates of unemployment ran as high as 70% even before the earthquake. That's made the country a hotbed for microfinance initiatives, which offer capital and banking services in impoverished regions.
Microlending gained in prominence after Muhammad Yunus, founder of the microloan-focused Grameen Bank, won the Nobel Peace Prize in 2006. Experts in the growing field already have experience rebuilding from rubble in Haiti.
In 2008, a series of hurricanes socked the island, killing 800 people and flooding much of the nation. Fonkoze, the largest microfinance organization in Haiti, faced an economic wipeout.
"We had 18,000 of our clients who had lost everything," says Katleen Felix, the group's U.S.-based liaison. "Everybody was thinking we need to do a write-off."
Instead, Fonkoze extended its clients' existing loans interest-free for a year, while providing new loans to rebuild ruined businesses and launch new ones. At the end of the year, nearly 85% of the group's borrowers had repaid their loans in full, according to Fonkoze CEO Anne Hastings.
Similarly, after the December 2004 tsunami that killed 200,000 people across Indonesia, India, Thailand, and Sri Lanka, a study of the affected areas found that "tens of thousands of survivors were being held back in their efforts to recover because they lacked investment capital, even as little as $50," says Grameen Foundation program officer Erin Connor.
Grameen, which hadn't previously been working in the affected areas, helped two local groups set up loans for tsunami survivors. Connor, now based in Indonesia, says residents used the loans to buy everything from sewing machines to kitchen equipment, for cooking food to sell to neighbors and shops.
While microfinance groups typically work with relatively small numbers of clients -- Fonkoze has about 50,000 in Haiti, where millions have been affected by the quake -- they can have a disproportionate effect, says Hari Srinivas of the Global Development Research Centre, who studied post-tsunami development efforts in Sri Lanka.
"Much of the microfinance goes to clients who are carrying out an economic activity within the community," says Srinivas. "So their 'service' benefits the community, and the additional finance that they have will benefit other non-members as well -- say a household hires a local builder to rebuild their house, or a shop keeper opens his doors again to the community."
Microfinance organizations often play an additional role in the wake of disasters: they have skilled organizers already on the ground in devastated areas.
After Hurricane Mitch struck Nicaragua and Honduras in 1998, "bridges were down, roads were destroyed," recalls Alberto Solano, Grameen's regional CEO for the Americas. "Microfinance institutions were the only ones with an organized structure in those rural areas, and were able to coordinate with the emergency response teams."
Fonkoze, like other microfinance institutions, acts as a de facto bank for many Haitians who are unable to get standard bank accounts. One of Fonkoze's first steps after the earthquake was to arrange for the U.S. military to fly $4 million in cash into Port-au-Prince from Fonkoze's New Jersey bank account. The organization now has 38 bank branches in Haiti open for business again.
From grants to loans: The next question confronting Haiti is how microfinance can operate in an economy that will be dominated for the foreseeable future by the flood of international aid.
Right now, cash grants are desperately needed for such necessities as food, water, medical care, and rebuilding destroyed housing. But economic planners are wary of undermining a culture of entrepreneurship and repayment that's been painstakingly built up in recent years.
"Although the intention is to ease the transition from donations to credit, it tends to give mixed messages," says Grameen's Connor. "Beneficiaries have little incentive to repay [a loan] given by the same organization that previously gave them full grants."
In Indonesia's Aceh province following the tsunami, mixed grant-loan programs averaged repayment rates of about 50%, she says -- far below Grameen's usual standards.
Fonkoze CEO Hastings acknowledges the risks, but says Fonkoze is nonetheless moving to give direct grants to clients to help rebuild homes destroyed in the earthquake. It's using a $1 million fund set aside from repayments of earlier microloans.
"In this earthquake, especially in Port-au-Prince, the place was just leveled," she says. "So giving a person a loan to restart their business, we feel, isn't the right way to go at this time. What they've lost is their shelter."
Consultant Jean-Louis can see that firsthand. Aided by a team of visiting engineers from Michigan, he recently assessed the damage to a range of Port-au-Prince businesses, including grocery stores, a pasta-making company, and a popsicle factory.
"They've lost inventory, lost equipment, a lot of receivables," he says. "It's very urgent, because you can't walk into a dangerous building and start working from there."
Jean-Louis says his biggest concern is one that's received relatively little international attention: the loss of businesses' established customer bases as local residents scatter to cities in other parts of Haiti.
"You have millions of Haitians who've gone in different directions. A lot of them left to go to cities 200 miles away," he says. "If you lose market share, you lose demand. And there's no way the business can go back to the level of operation they were before. You're talking about laying off more people, and the unemployment rate of Haiti is already 70% to 80%."
Hastings, though, says that the dispersal of much of the capital city's population may be a potential silver lining for Haiti's development future.
"For all the years that I've been in Haiti -- which is 16 years -- what we have been trying to accomplish is to stop the unbelievably rapid influx of people from the countryside into the city," she says. "Because the earthquake leveled Port-au-Prince, overnight we now have a mass migration out of Port-au-Prince. Everybody is sending their families home to the areas of the country that they came from originally."
It's an opportunity, she says, "to begin for once to truly decentralize, so that we can have viable economic zones besides Port-au-Prince."
But here again, aid efforts may thwart long-range planning.
"Everyone is quite skeptical that it's going to work," he says. "Because all the aid money is going to go into Port-au-Prince, and then the people will come right back."