The big jobs hole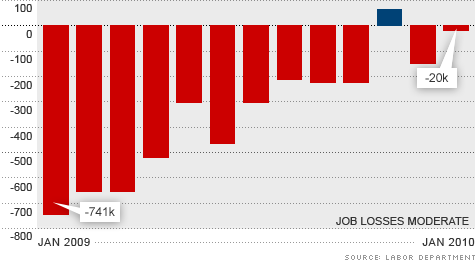 NEW YORK (CNNMoney.com) -- The government's monthly job report on Friday showed that the disastrous labor situation plaguing the nation's economy is moderating. But the report also underlines an unsettling reality: 8.4 million jobs have been vaporized since the recession began, and digging out won't be easy.
The unemployment rate fell unexpectedly in January to 9.7%. And businesses shed 20,000 jobs for the month, far fewer than the 150,000 jobs that were lost in December.
But, at the same time, the Labor Department revised its previous estimates for the number of jobs that have been lost over the past 25 months. What they found wasn't pretty.
Since the recession began in December 2007, the economy has lost 1.4 million more jobs than previously believed. The adjustments also showed losses for 2009 alone came to 4.8 million jobs, more than 600,000 additional lost jobs than previously estimated.
"We're coming out of a very, very steep downturn," said Dean Baker, co-director of the Center for Economic and Policy Research. "The revisions show that we have a really big hole to come out of."
The revision came about because the government had been dramatically underestimating the number of businesses that were closing due to the recession.
Signs of improvement, but steep hill to climb
Economists estimate that the country needs to create at least 125,000 jobs per month just to keep up with the nation's expanding job force. That translates into 11 million jobs just to get back to the 5% unemployment rate from before the recession.
The downward revisions of past job losses are a stark reminder of how much the economy needs to turn around. There are now 14.8 million unemployed Americans, who have been jobless for an average of 30 weeks -- an all-time high.
"Even as today's numbers contain signs of the beginning of recovery, they are also a reminder of how far we still have to go to return the economy to robust health and full employment," said White House economist Christina Romer in a statement.
"It is important not to read too much into any one monthly report, positive or negative," Romer added. "It is essential that we continue our efforts to move in the right direction and replace job losses with robust job gains."
There were signs in January's report that the worst of the labor decline is largely over, and many businesses are beginning to hire again.
The manufacturing industry created 11,000 jobs last month, and the services industry was the biggest jobs creator, with a net gain of 48,000 jobs. Of those services gains, 42,100 came from the retail sector, suggesting businesses are hopeful that the recent growth in consumer spending wasn't a fluke.
Perhaps the most encouraging sign from January's report was the addition of 52,000 temporary workers, whose hiring often signals that employers are starting to gear up again.
Employers also brought many workers on reduced hours back to full-time work status in January, another step seen as a precursor to hiring new workers. The number of workers who were seeking full-time employment but were working only part-time hours plunged by 9%, pushing the so-called under-employment rate down to 16.5% from 17.3% in December.
That resulted in longer hours for workers: The hourly work week rose by an average of 6 minutes to 33.9 hours in January. With a modest 4-cent gain in the average hourly salary, the average weekly paycheck rose by $1.36 to $761.06.
Employers still cautious
Still, it wasn't all good news. Several sectors continued to shed jobs, including the hard-hit construction industry, which shed another 75,000 jobs in January. The transportation and financial industries also lost in excess of 10,000 jobs, and the government shed a net 8,000 positions in January.
"Employers are still very cautious about hiring people and adding to their payrolls on a permanent basis," said Joanie Ruge, senior vice president at outsourcing firm Adecco Group North America, a unit of the world's largest employment staffing firm. "Many companies are looking to make sure they don't aggressively add staff -- and then the economic turnaround doesn't last, and they're force to lay off again."
Economists were cautious in their optimism as well. Though the unemployment rate fell to 9.7% from 10%, economists were skeptical that a month of job loss could muster such a large decline in the jobless rate.
Many experts chalked up the decline to the recent round of revisions impacting the estimated number of people in the workforce.
"January's rate showed an exaggerated sense of improvement in labor market," said Mark Vitner, economist at Wells Fargo. "But there is improvement. I don't want to take that away."