Super Bowl ads: Men without pants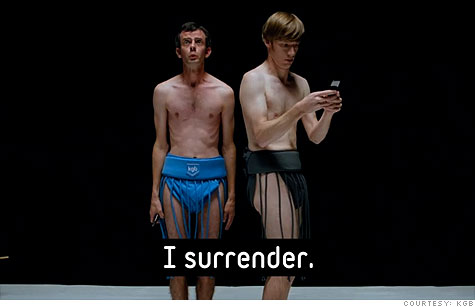 NEW YORK (CNNMoney.com) -- The ads for this year's Super Bowl ran the gamut from popular TV shows to celebrity cameos to motherly love -- but the oddest and most omnipresent theme was men without pants.
Spots from Dockers, Careerbuilder.com, Audi and text message information service kgb featured men in briefs, Speedos and even Sumo wresting gear.
The ads poked fun of men stripped down to their physical imperfections, with humility portrayed as humorous. The kgb ad culminated with a Sumo wrestler taking a seat on a skinny man's face.
Portraits of men in embarrassing situations led to a larger theme in this year's Super Bowl ads -- the emasculated male in tough economic times.
Chrysler's Dodge Charger ad featured shots of various men with voiceovers narrating promises to their wives: "I will put the seat down" or "I will say yes when you want me to say yes."
The ad closed with the phrase, "because I do this, I will drive the car that I want to drive," with a shot of "man's last stand," i.e., the Dodge Charger.
Tim Calkins, marketing professor at the Kellogg School of Management at Northwestern University, said this "very down ad about a guy who has been domesticated" resonates with workers who have lost their jobs amid the recession.
The Kellogg School of Management's Advertising Review rated the Dodge spot as one of the most successful ads from a professional standpoint. The ad ends on a positive note, according to Calkins, because it looks hopefully towards the future with its assumption that the situation will improve for hard-hit consumers.
Another advertiser -- FLO TV -- heavily pushed the theme of the emasculated man. In one of its spots, a narrator introduced a character whose "girlfriend has removed his spine, making him incapable of watching the game." The ad ended with a very clear message to men: "change out of that skirt."
"Men getting beaten down -- that's the underlying psychology in a way," said Calkins. "I think it's behind the unemployment data out there. Men are really feeling the brunt of the unemployment data."
Jiggle and yuks
As could be expected Super Bowl ads also offered their fair share of women in various states of undress. GoDaddy.com, the online marketplace for domain names, offered its usual parade of female models, including Danica Patrick, with loads of implied sexuality. Motorola (MOT, Fortune 500), for its muse, presented Megan Fox in a bubble bath.
Anheuser-Busch (BUD), the top advertiser with five minutes of ad time in the game, had one of the best commercials, said Calkins, borrowing heavily from ABC's show "Lost." In the ad, plane-crash castaways realized their situation wasn't so bad when they discovered a cache of Bud Lite. "Were going to be OK," said one of the castaways, clutching the beer and panting in a near-hysterical voice.
"That may well go down as one of the most popular spots," said Calkins, because it was humorous and it tapped into the popularity of the fact that "Lost" is in its final season.
Google, well-known for its advertising silence, launched its first Super Bowl spot, titled "Parisian Love," which drew high scores from agencies that rated spots based on professional quality and viewer interest. The commercial tracked a Google (GOOG, Fortune 500) search that began in the blossoming stages of a trans-Atlantic relationship, and ended with a search on the phrase "how to assemble a crib."
"It was basically a product demo on the Super Bowl," said McKee of McKee Wallwork Cleveland Advertising. He noted that Google got the third-highest rating on his Adbowl, where viewers vote for their favorites. He said the ad as "strategically smart."
Pete Blackshaw, executive vice president for Online Digital Strategic Services at Nielsen, said that Snickers had the most popular ad, as measured by BuzzMetrics, a tracker of online discussion.
The spot featured venerable actors Betty White and Abe Vigoda getting tackled in a football pick-up game. McKee said the Snickers ad "found a way to stand out" and was also a consumer favorite as measured by the Adbowl.
The humor of the Doritos spots, from PepsiCo's (PEP, Fortune 500) Frito-Lay division, was also popular with viewers, according to Adbowl and BuzzMetrics. A Volkswagen spot with cameos by funnyman Tracy Morgan and musician Stevie Wonder scored high ratings on Adbowl, and also from the marketing experts at the Kellogg School of Management.
The highly anticipated spot from anti-abortion group Focus on the Family, featuring Heisman trophy winner Tim Tebow and his mother Pam, managed to avoid controversy, experts said, mainly through the vagueness of its message.
"That was a surprising ad because it was incredibly understated and very gentle," said Calkins. "You could see that they were trying to avoid polarizing people. It was also very confusing, because you couldn't figure out what was the point."