Dodge's new tough-guy color: Furious Fuchsia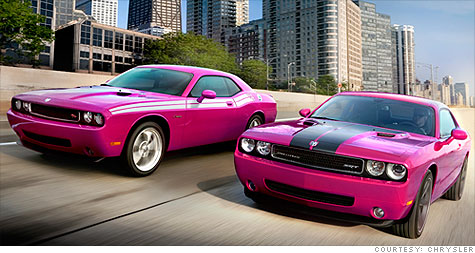 NEW YORK (CNNMoney.com) -- Furious Fuchsia, a pair of words not often seen together, is the name of a new special edition Dodge Challenger muscle car.
The bright purple cars from the still struggling Chrysler Group, available on V8-powered R/T and SRT-8 versions, will be officially unveiled later this week at the Chicago Auto Show, but the company provided photographs ahead of time
Chrysler Group is trying to better define its various brands and products as it attempts to claw back lost market share following years of slumping sales and financial cutbacks that ultimately ended in bankruptcy.
Dodge products like the Challenger muscle car and the four-door Charger sedan are targeted at male car buyers who want performance and a bold image.
About 85% of Challenger buyers are male, according to Chrysler.
Photographs don't really do justice to Furious Fuchsia, Chrysler spokesman Dan Ried insisted, while acknowledging that fuchsia might seem an odd color choice for a male-oriented car.
"I saw it in person and it actually looks pretty cool," he said. "It's tough to capture how it looks in the daylight."
SRT-8 Furious Fuchsia models will have a white interior as standard equipment. It will be optional on R/T models.
Dodge has a history of outrageous color names for its performance cars dating back to the original muscle car era of the late 1960s and early 1970s. Some colors, like Top Banana (yellow) and Sublime (green), and Go Mango (metallic orange) have also been reintroduced in recent years.
Furious Fuchsia is an all-new shade. Chrysler describes it as an updated version of Panther Pink and Moulin Rouge, colors available in 1970 and which enjoy a fan following today, including Web sites dedicated to the colors.
Only 400 of the 425-horsepower Furious Fuchsia SRT-8 Challengers will be made, the carmaker said. The 400-horsepower R/T version will also be built in limited numbers, but no figure has been announced.