After the gold rush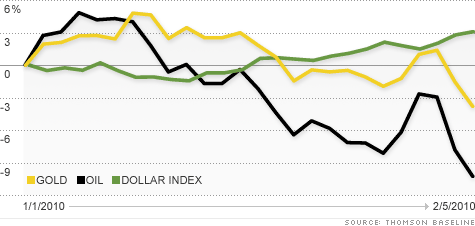 NEW YORK (CNNMoney.com) -- It hasn't been a good year for the black and gold.
Oh sure, fans of the New Orleans Saints are partying today following their team's first Super Bowl victory. But investors in commodities who've made big bets on black gold (oil) and real gold can't be in as festive a mood.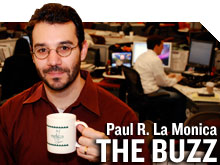 The price of gold has dipped 4% so far this year and is down nearly 15% from its all-time high last December. Meanwhile, oil prices are down 10% in 2010.
Not surprisingly, the pullback in commodities is taking place as the dollar has strengthened against other currencies, particularly the euro. The weakness in the greenback last year helped fuel the runups in oil and gold.
Oil, which is priced in dollars, tends to move higher when the dollar is weak. And gold, thanks to being a tangible asset, often does well when people doubt the dollar.
So will this trend continue? David Beahm, vice president of economic research with Blanchard & Co., a New Orleans-based investing firm that specializes in gold and other precious metals, said one reason gold and oil prices are falling now is simply because there was too much enthusiasm at the end of 2009.
The price of gold for example, shot up from about $1,050 an ounce to its peak of more than $1,215 an ounce in only two months.
"This is a healthy pullback from the highs. Some investors thought gold went up too much and too many people were getting in the market," Beahm said.
The fact that several European economies are such a fiscal mess right now may also keep gold, oil and other commodities -- such as silver and copper -- in check for a bit. That's because the dollar has once again regained its status as being one of the world's safer investments.
"People are going to wait and figure out what's going to happen with Europe's financial disarray. Right now, it appears investors think the smartest and safest play is the dollar," Beahm said.
Along those lines, oil may continue to slide a bit as well. Crude prices are currently hovering around $71 a barrel after reaching $83 as recently as January. One oil analyst said the move is all about the Benjamins and not fundamentals.
"It doesn't feel like supply and demand has mattered much lately. It's more about the dollar, inflation fears and what's going on in Europe and the broader market," said David Pursell, managing director with Tudor, Pickering, Holt & Co., a Houston-based investment bank focusing on the energy industry.
But both Beahm and Pursell think that key commodity prices may not fall that much further. In the case of gold, Beahm said that gold, currently around $1,064 an ounce, may test the $1,050 an ounce level but may not fall that much below it.
Beahm said the fact that India bought 200 metric tons of gold from the International Monetary Fund in November at an average price of about $1,045 an ounce means that this price could wind up being a natural bottom for the metal.
And Pursell said oil prices would probably head no lower than $65 a barrel in the near term because, if they get to about $65, oil-rich countries would probably ramp up production to keep crude prices stable.
But shouldn't oil and gold prices eventually move higher again? After all, despite Europe's problems, there is a sense that the U.S. economy may have finally hit bottom and that emerging markets such as India and China could continue to sizzle in 2010 and beyond.
If that's the case, oil prices should rise simply due to higher demand. And if more countries decide to follow India's lead and stockpile gold reserves, that would also be a positive for gold prices.
Richard Ross, global technical strategist with Auerbach Grayson, a broker dealer based in New York, said it makes sense for both the dollar and commodities to benefit from signs of an improving global economy.
So eventually it may be possible for commodities and the dollar to head higher (or lower) in tandem. But that time isn't here yet. As long as the fear du jour is about an implosion in Greece or Spain, people may sell oil and gold to buy the dollar simply because the dollar isn't the euro.
"There was this faint hope as the year started that the dollar could strengthen and commodities could hold up. There used to be a period when oil, stocks and the dollar rose together and that could return," Ross said. "But right now, the flight to the dollar is less a sign of the U.S. economy strengthening than it is an indictment of everything in Europe."
-- The opinions expressed in this commentary are solely those of Paul R. La Monica.