Money pit: When a cheap foreclosure costs much more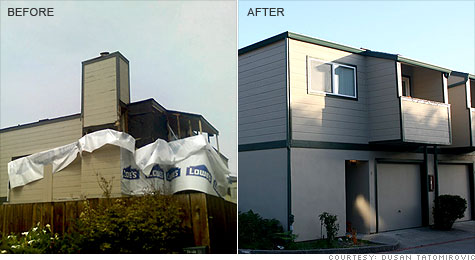 NEW YORK (CNNMoney.com) -- Dusan Tatomirovic found a steal when he bought a foreclosed condo just north of Monterey, Calif., last April for $130,000.
The locale is incredible, just 10 minutes from his office and close to his daughter. The weather is perpetual spring, and the California coast there is gorgeous. Plus, the three-bedroom, one-and-a-half bath had once sold for $380,000.
But Tatomirovic, like many buyers, found that while a foreclosed home can be an excellent bargain rife with possibilities -- there are also unforeseen costs and consequences.
The Serbian native, who works as a translator for the defense department, shopped for many months before finding this property, located in the town of Marina. He started dickering to buy it in June 2008, when the condo listed for $200,000.
"Realtors then were still under the impression that home prices were stabilizing," he said. "I told them I would pay $150,000. They just laughed at me like I was crazy."
He backed off and, luckily for him, prices continued to plunge. The agent slashed the listing to $150,000, and Tatomirovic offered to buy it at that price if the seller would pay all closing costs. They would not.
When they cut the price again a few months later to $130,000, he made an offer at that price, again asking the seller to pay for closing. The seller accepted.
Once he got inside, he found that there was a lot of work to do -- partly by necessity, partly by choice. He expected the bill to come in at about $27,000, but by the time he was done, his budget had ballooned to more than $35,000
"I wanted it to be functional, clean and easy to maintain," said Tatomirovic. "All the carpet had to be thrown out. All the appliances were worn out. The doors needed repair."
He had wood-laminate floors installed instead of the carpeting and replaced all the interior doors. The terraces were in poor condition and had to be rebuilt almost from scratch, with new framing, siding and railings.
He put in two new sliding patio doors and two windows, all with energy-saving, double-pane glass. He had one of the sliding doors leading to the patio replaced with French doors, which cost just under $600. In total, he spent about $2,600 on new doors and windows.
He was more fortunate with the kitchen cabinets. They were in good enough shape to keep for a while, needing just minor repairs. The appliances were a different story: He bought all new replacements and put in a new tankless water heating system.
Major damage
The biggest job was the exterior walls, thanks to a flaw in the original design of the building.
"The siding was heavily damaged by water, since the building had no gutters," said Tatomirovic. "I spoke to my contractor, Walt Faulkner, about it and he said it was best to replace everything at once."
So, he replaced all the wood siding with cement fiber panels and added new gutters to protect the new siding from damage. While the walls were exposed, he added some insulation as well. He wasn't sure how much of Faulkner's bill involved this job alone, but he thinks it was close to half of his expenses.
Tatomirovic believes he was lucky in his choice of contractor. "I was working two jobs at the time and did not have a minute to spare," he said. "We clicked instantly. He is a very reasonable and hard working guy, and he did everything he promised -- and more."
He still has patio work that needs to be done, but that will have to wait. At least until he receives his refund from the first-time homebuyer tax credit program.
"It is the rainy season here, and I am currently short on funds, but I hope to be able to fix the patio up later," he said.
Ultimately, despite the costs, Tatomirovic says the place was a good buy. It suits him well with a more-than-adequate 1,100 square feet of interior space and a nice little backyard.
And the condo is still worth more than he paid for it -- even with the repairs. Zillow, the Web site that has home value estimates for ten of millions of U.S. homes, judges its market value at about $237,000.
"I am still happy since I feel that it was money well spent," said Tatomirovic.

Talkback: Have you recently purchased a foreclosure? Were you surprised by the amount it took to get the property habitable? E-mail realstories@cnnmoney.com and you could be part of an upcoming story.