How do you say bailout in German?
NEW YORK (CNNMoney.com) -- Who said there was bailout rage and fatigue? Investors around the world uttered a collective cry of "Danke" and "Opa!" due to reports that Germany may rescue the shaky Greek economy.
Worries about a credit crisis in Greece have rattled the global markets for the past week or so. Fears of a possible Greek debt default had people wondering if some of the other so-called fiscally troubled PIIGS nations of Europe (Portugal, Ireland, Italy and Spain) were also on the brink.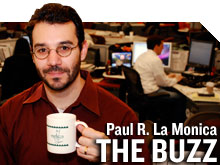 The reports of a German-led European Union proposal to offer loan guarantees to Greece stabilized the markets temporarily. Stocks in the U.S. dipped Wednesday after remarks from Federal Reserve chairman Ben Bernanke about the Fed's plans to eventually raise interest rates and remove other stimulus were released.
Still, the Wednesday morning sell-off was relatively mild when you consider that the Dow, S&P and Nasdaq all rose nearly 1.5% Tuesday on Euro euphoria.
So what now?
Alan Skrainka, chief market strategist with Edward Jones in St. Louis, said that the fact that Greece's economy is facing problems is not exactly a new phenomenon. But he thinks the fact that Greece is a country that uses the euro currency makes it imperative for other European Union nations to come to its aid.
He added though that bailout may not be the best term to use since he believes Germany will impose strict demands on Greece to cut its debt.
"Nobody wants to see countries exit from the EU or a default," he said. "The more likely scenario is that some restructuring of its debt is arranged. But this will be a bailout with conditions."
Other experts agreed that a bailout of Greece is necessary. And it might be time to, uh, try and put lipstick on the other PIIGS countries as well.
"The entire euro experiment is called into question if they can't take the weakest countries and keep them solvent and in shape to be trading partners," said Fred Fraenkel, chairman of investment policy with Beacon Trust Company, a money manager in Madison, N.J.
Still, whether you call the possibility of loan guarantees a bailout or a rescue, it may leave a bad taste in investors' mouths.
Thomas Cooley, a professor of economics with NYU's Stern School of Business, conceded that if Greece were to default on its debt, the impact would be "horrendous."
Bailout rage coming to Europe?
At the same time though, there is a risk that saving Greece may be perceived as rewarding bad fiscal habits and that other bailouts may follow.
"There are going to be unintended consequences. The other so-called PIIGS all have similar problems," Cooley said. "The worry is that if they bail out Greece, does that send a signal to Spain, Portugal and others that they won't have to get their act together and will also get help from the wealthier European nations?'
There is also the possibility that people in the more prosperous European nations may resent having to rescue Greece. In that sense, a type of bailout rage similar to what happened with the United States could take place and cause more political turmoil for all of Europe.
That could create more market volatility. After all, it seems clear that policy proposals in Washington that have been viewed negatively by investors are being influenced by populist anger towards the nation's big banks.
"This is sort of like the subprime crisis at the sovereign level. A German citizen may be upset over having to bailout a country with poor fiscal management, but since they are monetarily in bed together, they have no choice," said Wasif Latif, a vice president of equity investments with USAA Investment Management in San Antonio, Texas.
With that in mind, one market expert said the rescue of Greece and other PIIGS may be something for investors to worry about, not celebrate.
"Looking at Germany saving Greece and cheering that news is too much of a short-term reaction. This should be a warning that any nation with a big deficit has to get their fiscal house in order," said Subodh Kumar, an independent market strategist with Subodh Kumar & Associates in Toronto.
But others think that these worries will soon fade and that this too shall pass. Fraenkel believes this is the inevitable continuation of what's been taking place since the subprime market first imploded in 2007, not a new cause for concern.
"This is not the beginning of a new crisis. This is the tail end of the crisis we're having. This is the reflection of an end of what went on during a loose credit environment globally for years," he said, adding that the recovery in the global stock market that began last year still has legs.
Latif agreed that is the beginning of the end of credit worries, but added that the risk of doing nothing to save Greece, despite it being only a small cog in the global economic machine, had the potential to cause another market meltdown.
"This is the continuation of the unraveling of decades of debt accumulation. It's the biggest margin call in the history of mankind," Latif said. "But the markets are still fragile. A default has the potential of derailing the confidence that had been built up over the past 12 months. We're not there yet but it could lead to another panic."
-- The opinions expressed in this commentary are solely those of Paul R. La Monica.