Take this bank and shove it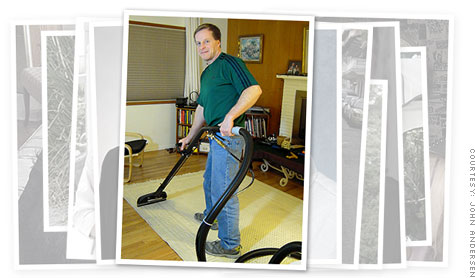 NEW YORK (CNNMoney.com) -- When Abel Collins decided to end his three-year banking relationship with Bank of America earlier this year, he simply wanted to make a statement.
The 31-year old Rhode Island-resident said he never had a problem with BofA specifically. But he switched from the nation's biggest bank to a local credit union to protest what was happening in the financial sector more broadly, namely that banks had become "too big to fail" and Washington wasn't doing enough about it.
"I basically figured if Congress wasn't going to take action to reduce the size of banks or at least regulate the activities they were involved in, I'd remove my part of the money they [Bank of America] controlled," Collins said.
Collins isn't the only one to put principles over convenience these days. Even though BofA, Wells Fargo (WFC, Fortune 500), Citigroup (C, Fortune 500) and other big banks continued to attract more deposits in the fourth quarter, countless other Americans have suddenly found themselves more willing to switch to smaller banks.
The general public anger over taxpayer bailouts and big bonuses for bankers is one reason. According to a recent survey published by Forrester Research, consumers said they considered the top banks, including BofA and JPMorgan Chase (JPM, Fortune 500), as among the least trusted U.S. financial institutions.
There's also growing resentment about how many big banks are nickel-and-diming customers in tough economic times. Several CNNMoney.com readers said it was the seemingly never-ending series of fees that prompted them to ditch larger banks.
Barry J., who detailed his switch from Bank of America (BAC, Fortune 500) to Southeastern lender Regions (RF, Fortune 500) in an email, said he had just become fed up with the $8.95 monthly maintenance fees on each of his three accounts.
"When I was closing my accounts, [Bank of America] would call me with a survey to see if it was the fault of any their customer service people or tellers or bank managers," he wrote. "They never asked if it was the additional fees they were charging."
Others said they were simply lured away by the attractive rates offered by a local bank or credit union that the big guys just couldn't match.
Tom Q. of Minnesota said he ended his 17-year relationship with Wells Fargo after learning he could open a checking account that earned a 4.10% annual percentage yield at nearby credit union.
"Wells Fargo just laughed and the banker said he would probably do the same!" he wrote.
Of course, these isolated incidents may not make much of an impact for banks like Wells Fargo, as consumer deposits generally make up just a fraction of a big bank's overall deposit base.
State and local governments as well as large and small businesses also make up a sizeable chunk of a bank's overall deposits. But big banks should note that even some business owners aren't too happy with their banks these days.
Two months ago, John Andersen said he became so fed up with some of the practices of the big banks that he decided to close the KeyBank (KEY, Fortune 500) checking account he used for his Portland, Ore.-based carpet cleaning business The Lindey Company.
Andersen added that his decision was also driven by a desire to do business with a smaller lender that would make loans that would benefit the local community.
Nowadays, Andersen says he pays his bills from an account he opened at Sunset Science Park Federal Credit Union, a lender with such personalized service that they do not even use deposit slips, he notes.
"I'm very happy," he said. "It is like the banker in the movie 'It's a Wonderful Life'. It really is that way."