Buffett's Baby Berkshires: Buy or bust?
NEW YORK (CNNMoney.com) -- To borrow a tag line from one of Warren Buffett's most well-known companies, buying Berkshire Hathaway is now so easy, even a caveman can do it.
Berkshire, the investment arm of the Oracle of Omaha and parent company of auto insurance giant Geico, used to be a stock that average investors could only fantasize about owning.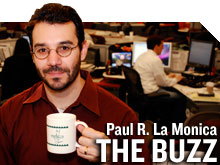 Well, you can stop dreaming. The company's B shares (BRKB) currently trade at the bargain basement price of $74 and change. Of course, you probably still can't afford the company's A stock (BRKA, Fortune 500), which fetches more than $111,000 a share.
But the "cheaper" Baby Berkshire shares, which had been trading around $3,500 a few weeks ago, are now within reach of Main Street investors thanks to a 50-for-1 stock split back on Jan. 21.
Berkshire decided to split its shares, despite Buffett's long-held stance that he would never do so, after the company announced last year that it was purchasing railroad Burlington Northern Santa Fe (BNI, Fortune 500). Shareholders of BNSF approved the deal Thursday.
So is it still a good time to bet on Buffett? The B shares have shot up 7% since the split -- a period when the broader market has been rocked by concerns about the debt crisis in Europe and continued job losses in the U.S. The S&P 500 is down more than 5% during the same time frame.
It's important to remember that a stock split does nothing to change a company's fundamentals. It's really a psychological boost more than anything else. Sure, it costs less to buy one share than it used to, but the value of Berkshire remained the same.
If you owned 1 share before the split, you wound up getting 50 shares that suddenly were 1/50th of the previous price. So one share at the pre-split price of $3,476 simply became 50 shares worth $69.52 each.
But the split set the stage for perhaps the main reason Berkshire has not fallen victim to the recent market jitters. The stock received a nice pop after Standard & Poor's announced the B shares would replace Burlington in the S&P 500.
One of the criteria for being added to this index is that the stock must be widely available. Prior to the split, there were not enough shares of Berkshire trading on the market to merit its inclusion in the S&P 500.
The stock rose 5% following the announcement. Companies usually experience a pop on the news that they will be added to the S&P 500 because money managers that run index funds tied to this benchmark need to own it.
Berkshire will be officially added to this blue-chip index after the close of trading Friday, once the Burlington deal actually is completed. So there could still be a lot of buyers who could propel the stock further in the short term.
Keefe, Bruyette & Woods analyst Melissa Roberts wrote in a report this week that she estimates S&P 500 index funds will need to buy between 161 million and 177 million Berkshire B shares.
Did ratings agencies go off the rails?
But what about Berkshire beyond the next few weeks? Credit rating agencies have been expressing concerns about Berkshire's railroad bet as well and other deals that are turning the company away from its traditional insurance roots. As such. Berkshire no longer holds a prized AAA credit rating.
Analysts at credit rating firm Fitch wrote in a report Wednesday that Burlington, as well as the utilities and financial companies it owns, have "comparatively lower credit quality" than Berkshire's insurance operations and other investments. Fitch also said the non-insurance businesses "often have greater sensitivity to general economic conditions."
In addition to insurers Geico and General Re, Berkshire's insurance unit includes the stakes it owns in prominent U.S. firms such as Coca-Cola (KO, Fortune 500), Wells Fargo (WFC, Fortune 500), Procter & Gamble (PG, Fortune 500), American Express (AXP, Fortune 500) and Kraft (KFT, Fortune 500).
Outside of the insurance and investment business, Berkshire also owns utility MidAmerican, transportation leasing firm Xtra, and several well-known consumer brands such as Dairy Queen, Fruit of the Loom and carpet maker Shaw.
But Glenn Tongue, managing partner with T2 Partners, a money manager that counts Berkshire as its largest holding, said he thinks Fitch and fellow rating agencies S&P and Moody's shouldn't be worried about Berkshire focusing less on insurance.
He pointed out that the company's operating businesses have actually enjoyed stronger levels of profit growth over the past few years than the insurance and investment businesses. Tongue added that the Burlington deal will not create a bigger cash burden on the firm.
"This is an extremely high-quality company with an incredibly strong balance sheet. Berkshire is a triple-A company based on its fundamentals and managerial mind set," he said. "We think that Moody's and S&P have it wrong, and we think they will eventually figure out they have it wrong."

Tongue said he isn't holding out for a credit upgrade anytime soon, but added that even without the AAA rating, the increase to Berkshire's borrowing costs would be "immaterial." With that in mind, he said the stock looks to be trading about 30% below what his firm believes it is worth.
So now that you don't need a winning lottery ticket in order to afford Berkshire, it looks like the B shares may continue to be a good investment.
-- The opinions expressed in this commentary are solely those of Paul R. La Monica.