Sex, drugs and vindication: What the Broadcom trial fiasco means for white collar cases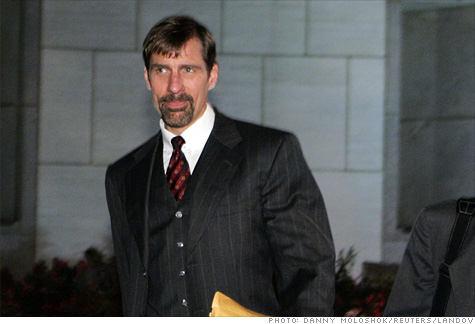 LOS ANGELES (Fortune) -- As CEO-gone-bad cases go, Henry Nicholas' had it all: heavy allegations of sex, drugs, and rock and roll, as well as big-time corporate number-fudging. Because of widespread stock-option backdating at Broadcom, the chipmaker that Nicholas used to run, the company restated its earnings to the tune of $2.2 billion.
But a funny thing happened on the way to the big house: Every charge against Nicholas was recently thrown out, with the final act taking place last week when the SEC dropped its civil backdating case against him and several associates.
Suddenly, Nicholas is the poster child for something else: the nearing end of a crusade against options backdating that has produced few scalps. More broadly, he is a reminder of how few successful prosecutions of CEOs there have been since the burst of convictions in the now-distant Enron-Worldcom era.
Indeed, despite all the outrage over stock option backdating, it has been a wildly uneven area of pursuit, with some companies (such as Apple (AAPL, Fortune 500)) admitting to the practice but facing neither regulatory or criminal actions. Others, like UnitedHealth Group (UNH, Fortune 500) are only facing civil sanction from the SEC.
And where there have been criminal charges they have had diverse outcomes: the former general counsel of computer security company McAfee (MFE) was cleared by a federal jury and the SEC, and is now suing his former employer for defaming him and making him a scapegoat.
In the criminal backdating case of Brocade Communications (BRCD), CEO Greg Reyes' was convicted, but that was overturned on appeal and he is to be retried. Perhaps most notoriously, Kobi Alexander, the former CEO of tech firm Comverse Technology (CMVT) recently contributed $60 million to the settlement of a class action suit over backdating, but has been living on the lam from federal prosecutors in Namibia. "It's very hard to get convictions in these cases where you have to show criminal intent," says Peter Henning, a law professor at Wayne State University. "There is no smoking gun."
In the case of Broadcom (BRCM, Fortune 500), the U.S. Attorney for the Central District of California has until May to file appeals against the dismissals. But the judge in the case, Cormac Carney, slammed prosecutors, saying they had tainted witnesses, "distorted the truth-finding process," and failed to produce evidence that Nicholas and his associates intended to commit a crime through backdating schemes that took place between 1998 and 2003, when he was CEO and sold $1 billion worth of stock. "The bottom line is I just think in the interest of justice we all need to move on," he told SEC lawyers at his last hearing.
Among the many stunning results in the proceedings was the fact that Carney set aside guilty pleas by two former senior Broadcom executives including Nicholas' co-founder Henry Samueli -- he had previously copped to a single count of lying to the SEC. And one of the judge's most controversial moves was to dismiss the central backdating case against Broadcom's former CFO before it went to the jury, citing insufficient evidence. Under what is known in legalese as a "rule 29" acquittal, that means that case cannot be retried.
"I find Broadcom inexplicable," says Columbia University securities law professor John Coffee. "The district judge went well out of his way to immunize himself from appellate review -- and that suggests a degree of hubris."
But it also shows how incensed Carney became at the U.S. Attorney who oversaw the case. (The U.S. Attorney's office declined to comment beyond saying it is still considering an appeal.) While there is much to be debated on all sides of the Nicholas proceedings, one thing that is clear is that prosecutors are under immense pressure to get convictions against CEOs.
William Black, a former regulator and now white-collar law expert at the University of Missouri-Kansas, suggested to me that the big picture beyond Broadcom -- and which may also explain why so few have been criminally charged from the subprime mess -- is that the SEC was too lax for too long and the FBI has lacked the necessary resources to manage complex financial cases. "The judge in this case has ultimately adopted an absurd position, but for completely understandable reasons," Black says.
Nonetheless, it's a complete vindication for Nicholas, whose case stood apart from the pack, because it was twinned with the now-withdrawn felony drug trafficking charges. That lurid case alleged he laced the drinks of employees of customers with narcotics and provided drugs and prostitutes at an underground "lair" he had built beneath his Orange County mansion -- and inspired such memorable tabloid headlines as BIG-$$ TUNNEL OF KINKY LOVE and ROCKIN' THE COKED-OUT 'ORGY' CAVE. (Though Judge Carney told Nicholas that it seemed he had a "serious drug problem" in the past, Nicholas' lawyers said the criminal allegations were false and the lair was much more innocent than portrayed.)
In general, Nicholas' position had been that the more salacious charges against him relied heavily on discredited witnesses who had tried to extort him. Barring the appeal, Nicholas, now 50, can move on to a second, perhaps less audacious, act. His co-founder Samueli, who also owns the Aneheim Ducks, recently returned to work at Broadcom. And the company, which declined to comment on all this, recently settled a class-action suit related to the backdating for $160 million.
Meanwhile, prosecutors have at least one more kick at the options backdating can: a criminal case against the former CEO of KB Homes (KBH) gets underway in a federal court in Los Angeles later this month. Get ready to see white collars loosen wide if this case fizzles as well.
--An earlier version of this story said Nicholas has admitted to having a substance abuse problem in the past. It should have said instead that the judge accused Nicholas of such.