Inside the crisis at AIG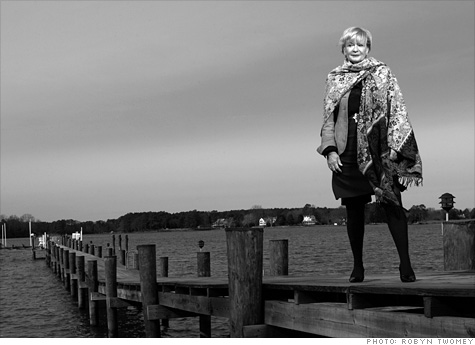 (Fortune Magazine) -- Anastasia "Stasia" Kelly, 60, joined American International Group as general counsel in September 2006, midway between the ouster of longtime CEO Maurice "Hank" Greenberg in 2005 and the AIG Financial Products crisis in 2008 that forced the U.S. government to take control of AIG.
Formerly general counsel and broom-wielder at MCI after the accounting scandals at its WorldCom unit, Kelly was hired by Greenberg's successor, Martin Sullivan, to help AIG sweep up after its own set of restatements.
During the week she lived in a downtown Manhattan apartment that prophetically stood in the middle of the two blocks separating AIG's headquarters and those of the company's eventual minder, the Federal Reserve Bank of New York. On weekends she flew back to her home near Washington, D.C., to be with her husband, a retired federal law-enforcement official, and twin sons (now away in college).
In her years at AIG, Kelly reported to four CEOs, one of whom largely ignored her, another of whom treasured her judgment and promoted her to vice chairman. Meanwhile her work went from quotidian to crisis-ridden. Kelly resigned on the last day of 2009 -- over pay, a problem that has never let up its tight grip on this embattled company.
Kelly's role at AIG (AIG, Fortune 500) put her at the epicenter of a financial cataclysm that will forever be high drama in American economic histories. Agreeing to discuss the company's turbulent years, she met in January with Fortune senior editor-at-large Carol Loomis at a hotel near Kelly's home in northern Virginia. Here is an edited transcript of their conversation.
Fortune: What struck you about the AIG culture after you got there in 2006?
Kelly: I had never seen a place where people worked so hard. There was an AIG joke: "Thank heavens it's Friday, because that means there are only two more working days until Monday."
All of AIG's top managers, though, had grown up under Hank Greenberg, and like most people, they weren't thrilled about changing things. I wanted to put in a worldwide compliance and regulatory organization, but I kept hearing, "Why do we need this?" I just kept pushing, and eventually we got that organization in place. When things blew up in 2008, it was very important in keeping things under control overseas.
Another point: You didn't see many women among the top managers. When I went to my first meeting of the extended management team, I was the only woman among 35 people. I joked to Martin Sullivan, "I guess we won't sit boy-girl, boy-girl, because if we do I'll have to get up and move seats every five minutes."
Did you have much to do with AIG Financial Products [FP]?
Not originally. FP had its own general counsel, who reported to the general counsel of AIG's financial services division, who -- after I asked for this arrangement -- reported to both me and the head of that division. I first got involved with FP late in 2007, when we had a big analysts' meeting to address concerns about the credit default swaps we had sold to financial institutions that wanted to insure their holdings of super-senior tranches of collateralized debt obligations. I made sure then that we made the right disclosures about what was said at the meeting.
Martin Sullivan and FP's CEO, Joe Cassano, swore up and down at that meeting that the CDS were accurately valued on FP's books. But only two months later your auditors, PricewaterhouseCoopers, concluded that uncertainties about this value meant AIG had a "material weakness" in its internal controls.
That was obviously grim news for us. We kept trying to find reference prices for the CDOs so that we could come to a price for the CDS. There just wasn't any market we could look at. In our hearts we all believed this was a temporary liquidity situation. But finally PwC said, "There's just no there there."
How difficult was this for the company?
If that had been it, I don't think it would have made much difference. But the economy worsened, and then Martin stepped down on Father's Day of '08 -- I remember things by holidays -- and at that point obviously it was, What do we need to do to get through this crisis, and how bad is it going to be?
When Sullivan left, AIG's chairman, Bob Willumstad, took over as CEO, amid downgrades of AIG by the rating agencies and collateral calls from your CDS counterparties. Willumstad called on Tim Geithner at the New York Fed and discussed whether AIG -- an insurance company, after all, not a bank -- might ever qualify for government assistance if it was needed. Did you know about Willumstad's visit to Geithner?
Not directly. Bob operated mainly through outside counsel. That was unusual. I've got to be honest with you: I'm used to being consigliere, and I wasn't. It's hard to have outside counsel knowing more than you do. But that was Bob's style, and as CEO, he got to do what he wanted. I thought about leaving. But I knew I couldn't, with the company in such trouble.
Did Willumstad think you were part of the problem?
I never got that impression -- never. I think it was simply Bob's style.
So we get to the fateful September '08. Lehman failed on Monday the 15th. The markets froze. And AIG was taken over on the 16th, because it lacked the ability to meet FP's collateral calls and required a bailout if it were to escape bankruptcy. What were you doing in the week that led up to all that?
I was in Japan the first part of the week, and then I was back for that Friday, which by all rights should have been Friday the 13th, but I guess was the 12th. AIG management had by then not come close to raising the collateral we needed. I called the insurance superintendent of New York State, Eric Dinallo, that Friday night, and by Saturday morning he was there with his team. I spent a lot of my time trying to figure out how we could wall off the rest of the company from FP. That weekend the Fed -- not our regulator in the least, but the lender of last resort -- was very busy doing due diligence on what assets of ours it could use as collateral if it lent us money.
By Tuesday the government -- appalled by what the Lehman bankruptcy had done to the credit markets -- was ready to take over AIG, and the company's board was debating that course vs. a bankruptcy. What were the problems with a bankruptcy?
That option was very difficult, if not impossible, to use. Just take the operating insurance companies: Bankruptcy isn't a path for them. There are state regulators with statutory authority with whom you need to have a conversation before anything drastic happens. State insurance companies would have to do something within a state -- receiverships, for example. And we'd be putting successful companies, with no problems at that moment, into receivership. Another issue was interrelationships among AIG's companies -- guarantees and cross-ownership of assets. Just remember, this is the company that Hank built. You really couldn't justify a bankruptcy for the parent company. Everything was just too entangled.
If we had months to concoct a plan, maybe we could've found a series of options that would've been better than a takeover. But we didn't have the time. That's why the nonbankruptcy alternative -- thank God we had it! I think bankruptcy would have been a worse alternative, though the taxpayers may not agree with that.
What time did you get home that night?
About 3 a.m. I set the alarm, telling myself that maybe I could get five hours of sleep before I had to be back at the office. But I didn't make it because I got a call saying that everyone needed to be in the boardroom by 8:30 "because the Fed is coming." We didn't know what that meant, so at 8:30 we all milled around, waiting. And then in walked Ed Liddy, who we had learned the day before would take over from Bob Willumstad. He was all by himself. He got us into the boardroom and started being CEO.
Before MCI, you were general counsel at Sears. Liddy was also at Sears. Does that mean you knew each other?
We didn't overlap at Sears. By the time I got there in 1999, he'd left to run Allstate. But we were both in Chicago, and I did get to know him socially a little bit. I must say we clicked right away at AIG. He was smart, very principled, a leader without being aggressive. He cares about people, always had his head on straight, never lost his cool. I'd walk through a wall for Ed Liddy.
I guess you saw his coolness at the March 2009 hearings held by the House Oversight Committee. The proceedings reflected the rage that the U.S. public had been feeling about the bailout, which boiled over when AIG announced before the hearings that, fulfilling contracts, it had made $165 million in retention payments to FP employees -- who, by the way, got another set of payments this February. What were those March hearings like?
Originally they were just supposed to be about the AIG takeover in general. But they became totally consumed by the FP payments, and the whole scene was frightening. By that time some of our employees had received death threats. One person e-mailing the AIG website said, "AIG executives and their children should be executed with piano wire."
The night before the hearings, the press was swarming all over Washington trying to find what hotel Ed was in. So my husband and I put him up at our house. One thing Ed and I discussed that night was whether he should talk about the death threats at the hearing. That would be risky, because people might think we were making excuses. We finally decided Ed would pull out some of the threatening letters if the right opportunity arose.
The next day, in five hours of hearings, with congressmen yelling at him and the whole scene incredible, he finally did read a couple of the letters into the record. And right then the whole tone of the hearing changed. The mood went from fury to "Okay, you're human too; you've got kids; you're worried about them; I'm sorry, the government isn't helping this."
When Ed stood after the hearing ended, he almost tripped. I said, "What's the matter?" And he said, "I have this thing I've done in my career. When I know I have to control myself, and it's very difficult, I curl my toes in my shoes. That hurts, and it keeps me focused on doing something to keep myself from blowing up. But I've never before had to curl my toes for five hours."
The next huge event for you was the June 2009 entry of Kenneth Feinberg, the special master of compensation for seven companies, AIG very much included, that had received TARP funds and not paid them back. You were AIG's point person in dealing with Feinberg. I've read you emerged from that experience disliking it heartily. Was it bad from the beginning?
Yes, because, first of all, it's very hard to negotiate when you have no power. Feinberg had the power -- unfettered power. Our new CEO, Bob Benmosche, and I tried very hard to let him know what compensation we thought we required to attract and retain the kind of people we needed to pay off our debt to the taxpayers and deal with the risk in FP. We had the New York Fed and Treasury behind us on that. But Feinberg had political and populist considerations to worry about and a need to set amounts that would satisfy those. As we negotiated over the months, it became increasingly obvious to me that we were not going to end up in a good place.
I'm an optimist by nature, and I kept trying. Feinberg's style is to hold out a carrot and then replace it with a stick. I started referring to us as Charlie Brown in the football game -- we'd keep running up to kick the ball, and there was never a ball there.
I kept thinking that we were going to be able to put something together that would hold everyone at AIG, including me. But we couldn't, and that's when I knew my own personal decision was going to lead me to a different place, and I told Bob that. Up to that time, I had not planned to leave, nor did I want to.
Spell out where you stood in your 2009 compensation.
I got a promotion to vice chairman at the first of the year, took on new responsibilities like human resources, and got a big raise. I was due to make $900,000 in salary in 2009 and a bonus that could go from $0 to $2.2 million. I also was scheduled to get some compensation held over from earlier years. But Feinberg's final determination was that most of the top 25 in compensation at AIG -- which in 2009 would have included me -- would get no more than $500,000 in cash, to which would be added some quantity of AIG stock that would be handed out periodically, as if it were salary.
So, by Feinberg's ultimate determination, you were going to get cut in 2009 from $900,000 in cash, and potentially much more, to $500,000 plus some quantity of stock?
That's right, and I had another problem to think about too. There was a possibility that I would end up being -- under Feinberg's plan -- among the top 10 at AIG in pay for 2009. Now, most people don't know this, but the rules specify that none of the top 10 in a TARP company can receive severance pay -- or as the law puts it, golden parachutes -- if they leave their company. That meant that if I ended up in the top 10, stayed until 2010, and then decided I wanted to leave, I would not be able to collect severance.
I'm sure you realize that, to most people, $500,000 -- much less the $3.8 million you'll reportedly receive in severance -- seems outrageous for somebody who's high up in a bailed-out company.
I totally understand that. My father was a Boston Irish Catholic cop who probably made $60,000 in his best year. But I've spent my life working myself up a career ladder to where I am, and I had been working 18 hours a day, seven days a week, and killing myself. I wasn't tainted with what happened at the company. For someone to say, "I think you're doing a great job, Stasia, but the American people hate you and therefore we think you should make no more than $500,000 a year" -- there's no logic to that. It wasn't something I could live with. I guess that's the Irish in me.
What are you thinking of doing now?
I'm going to take the next few months to figure that out. I've had some calls from law firms wanting to talk about building a practice with them, and some calls from headhunters too. The notion of walking back right now into another general counsel job? I just need a break from that. But I loved what I did.
What do you think about the future for AIG?
There are so many good people there, and there are so many good businesses, and that makes me think there's a path for them. If Bob and the board can keep the company and the people together, then there's a path to getting the taxpayers paid back and AIG's good businesses surviving. I guess I hardly need to say that would be a wonderful end to the story.