Nearly 75% of all U.S. homes are affordable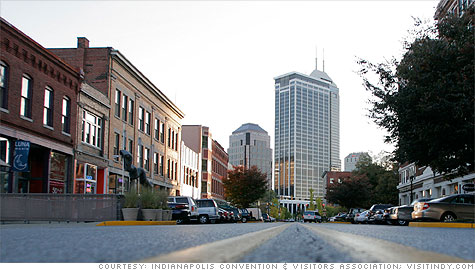 NEW YORK (CNNMoney.com) -- An amazing turnabout in the U.S. housing market over the past four years has pushed home prices to near record levels of affordability.
The typical American family, who makes the nation's median income of $64,000 a year, could afford to buy 70.8% of all homes sold in the United States during the last three months of 2009, according a quarterly report from the National Association of Home Builders and Wells Fargo (WFC, Fortune 500).
That's off just a tad from the record 72.5% reached during the first three months of 2009, but up substantially from the second quarter of 2008 when only 55% of homes sold were affordable.
"Favorable mortgage rates and sliding house prices that have now started to stabilize nationally have both contributed to a record year for housing affordability in 2009," said NAHB chairman Bob Jones, a home builder from Bloomfield Hills, Mich.
The NAHB judges a home to be affordable if a family making the metro area's median income could devote no more than 28% of their take-home pay toward housing costs.
There was a huge variation in affordability around the nation. As a rule, Midwestern cities far outperformed coastal communities.
All five of the most affordable major housing markets were in the Rust Belt, led by Indianapolis, which has been the nation's most affordable major metro area for more than four years. More than 95% of all home sold there were classed as within the budget.
Detroit was the second most affordable major market with 93.4%, followed by three Ohio cities, Dayton (93.2%), Youngstown (93%) and Akron (92.2%).
A few small cities surpassed even Indianapolis. In Kokomo, Ind., 98% of homes sold were priced low enough for median-income families to afford. Monroe (97.1%) and Flint (96.3%) both scored high as well.
New York was the least affordable market; less than 20% of homes met the criteria. San Francisco (22.3%), Honolulu (33.8%), Santa Ana, Calif.,. (34.5%) and Los Angeles (36.8%) filled out the bottom five.
The most unaffordable small market was San Luis Obispo in California, where only 32% of homes sold were attainable for median-income families.