Trading textbooks for triple creme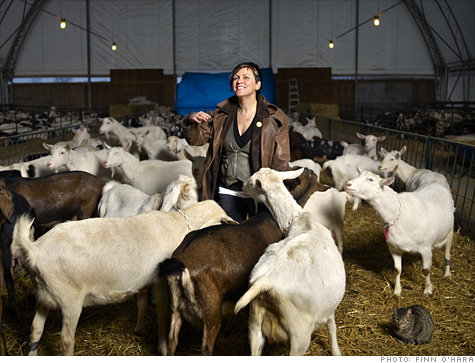 (Fortune Magazine) -- In the fall of 2003, Petra Cooper was president of McGraw-Hill Ryerson Higher Education in Toronto, then a $47 million unit of McGraw-Hill. At 41, she was comfortable, successful -- and bored. The industry was being turned upside down by digital media, and a once-growth-oriented job was now all about cutting costs. "I saw the scope of the job getting smaller and smaller," Cooper recalls.
So she went to work on her exit strategy. Knowing she wanted her own business, Cooper researched everything from art centers to nursing homes before deciding to start a creamery. A foodie and a regular visitor to Prince Edward County, a weekend retreat a few hours from Toronto on Lake Ontario, she got the idea after learning the island had 19 wineries but no artisanal dairies.
It was a good opportunity, but not an obvious one: Cooper had zero experience in the field. "I didn't even know you could milk a sheep," she says. Rather than making an impulsive switch, Cooper stayed put at McGraw-Hill (MHP, Fortune 500), using vacations to study cheesemaking, taking online microbiology courses, and starting an artisanal cheese society, which helped her network.
By June 2005 she was ready. She sold her house, bought 20 acres of land near Lake Ontario, gave a year's notice, and prepared to move her daughter. Fifth Town Artisan Cheese was born.
Yet even the best-laid plans can sour as quickly as milk. Cooper's airy, modern, super-green dairy building went $500,000 and six months over budget, and she signed an exclusive contract with a distributor who didn't come through, leaving her short on cash just as the credit crunch arose. She made payroll by investing her husband's bonus and begging her way to a bridge loan. "I wondered if I was going to have to sell my wedding ring," she recalls.
Last summer the awards -- including three from the prestigious American Cheese Society -- started rolling in. So did the customers. By the end of 2009, Cooper had 14 employees and $1 million in revenue. Nearing the end of her second fiscal year, she expects to be just $20,000 shy of breakeven, and an angel investor is funding an expansion.
Cooper admits that she initially missed the trappings of corporate life, but she knows she made the right decision. "I still bite my nails and worry about my monthly stamp budget, but things are good. You don't feel dead when you go to work every day."