Don't 'discount' Fed's rate hike
NEW YORK (CNNMoney.com) -- The Federal Reserve took its first baby step on Thursday toward finally raising its most important interest rate.
Wall Street, surprisingly, didn't get too worked up. Stocks fell slightly at the open Friday morning, and turned positive soon after.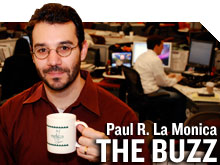 One might have expected a big move down: Higher rates equal increased borrowing costs and that equals a sluggish economy. So the logic goes.
Investors may be dismissing the Fed's boost to the so-called discount rate as largely a symbolic move because the Fed has not indicated any willingness to raise its more important federal funds rate anytime soon.
But make no mistake. The days of ridiculously easy money appear to be coming to an end. Can I get an Amen to that?
The Fed is still taking a slow and steady approach to rate hikes. That's probably smart. Rates are going to remain near historic lows for a long time.
So it seems silly to worry about how future rate hikes could kill the nascent consumer spending recovery and lead to a double-dip recession.
Instead, it may be time to salute the Fed for at least getting the rate hike wheels in motion. It seems to finally realize that it is time to pull back on stimulus programs that, while necessary at the worst of the credit crisis, could cause inflation problems down the road.
"This is good news. Presumably this is a sign of strength and confidence but It's also a sign of necessity," said Karl Mills, the manager of the Counterpoint Select Fund and president and chief investment officer for Jurika Mills & Keifer in Oakland, Calif. "The Fed has to improve its balance sheet. The only way to get the fiscal house of the U.S. in order is to do that."
Concerns about heavy debt levels in Greece and other nations in Europe have dominated the financial headlines this year. But the United States also has a rising debt load, and some experts worried that the Fed was going to make matters worse.
That no longer seems to be as big of a concern.
"We have this scenario where the recovery is working. It's not monstrous but it's good enough. So some of the stimulus can be removed," said Jason Pride, director of investment strategy for Glenmede, a Philadelphia-based asset management firm. "This is a very surgical step. The Fed wants to signal it is tightening but doesn't want to move too fast."
Sure, the Fed isn't likely to raise the federal funds rate, the overnight lending rate that influences many consumer and business loans, just yet.
It's probably going to hike the discount rate, which is what banks pay to borrow directly from the Fed in an emergency, two more times before boosting the federal funds rate.
That will put the spread between the discount rate and the federal funds rate back to is normal level of 1 percentage point. The discount rate is now at 0.75%, while the federal funds rate stands at between 0% and 0.25%.
But widening that spread is going to be key. The fact that many big banks enjoyed gargantuan profits last year was in large part due to the Fed keeping rates so low. And that has led to a populist backlash against the financial services sector and the Fed itself.
By raising the discount rate, even by just this tiny fraction, Federal Reserve chairman Ben Bernanke appears to be sending the message that it's time to stop treating banks with kid gloves. It's time to reward fiscally responsible individuals and defend the dollar as well.
Low rates punished anyone trying to earn interest in a savings account. Low rates also helped to weaken the dollar and fuel a rise in commodities prices, most notably oil and gas. But the dollar is finally showing some signs of life -- a recognition of the bigger fiscal problems in Europe.
If that trend continues, oil prices could head lower. And the signal from the Fed that more tightening is inevitable should lead to more gains for the greenback. While a stronger dollar may worry some investors, it's welcome news for consumers.
"The stock market has been going up but people on Main Street haven't been getting a lift," said Keith McCullough, CEO and founder of investment research firm Hedgeye Risk Management and a vocal Fed critic.
"With higher rates, people with savings accounts will earn more and with the dollar going up, you'll pay less at the gas pump," he added. "I've been tough on the Fed but I have to give Bernanke a pat on the back."
Reader comment of the week: You don't have to agree with me to get a shout-out. Nearly all of the reader feedback on Thursday's column about Sirius XM came from fans of the company who think I'm crazy to suggest the stock's amazing run may soon end.
My favorite comment was this one from Joseph Pippins: "I am tired of people and 'analysts' trying to drive down the stock price of this company. Every time I have heard someone talking trash about a monopoly stock such as SIRI it has always bit them. This stock is gold now and was gold at .05 cents a share. Get out of the way and stop spewing negative garbage," he wrote.
In my defense, I don't think it's "negative garbage" to point out risks for a stock that's on a tear. That's just reasonable caution. But Pippins and other Sirius XM fans are correct to note that I've been wrong about the stock in the past.
What's more, I have no position in the stock and actually love the company's service. (I'm not technically a subscriber but I get some Sirius XM music channels via DirecTV.) So I'd be happy to eat crow later this year if Sirius XM keeps rising.
-- The opinions expressed in this commentary are solely those of Paul R. La Monica.