Can Wal-Mart beat the tech giants? No
NEW YORK (CNNMoney.com) -- Wal-Mart is trying yet again to prove that it can compete with the big boys in Silicon Valley.
The acquisition on Monday of online video upstart Vudu is proof that Wal-Mart wants to dominate the online video market much the way that it rules many other categories in retail.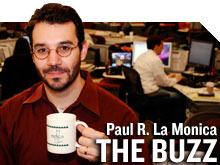 But once again, Wal-Mart (WMT, Fortune 500) may find it's getting into a crowded market too late. Wal-Mart had a movie download service that it launched with the help of Hewlett-Packard three years ago. That was a flop. Before that, Wal-Mart tried and failed to out-Netflix Netflix in the online DVD rental business.
Will this third attempt to rule online media be any different? Well, Wal-Mart is making a bolder bet this time. Instead of partnering, it's trying to bring the tech expertise in-house with an acquisition. That probably makes more sense.
And Vudu, which licenses its technology to the likes of LG, Samsung and Toshiba, could help the company sell more Internet-ready TVs and Blu-ray DVD players. But is that what consumers really are craving?
Phil Leigh, an analyst with Inside Digital Media, an independent research firm in Tampa, argues that Vudu's offerings of downloadable movies may be too limited.
Why would consumers buy a pricey new TV or DVD player just to gain online access to movies when they can already do that with services from Netflix (NFLX), Amazon.com (AMZN, Fortune 500) and that little company in Cupertino, Calif. named Apple (AAPL, Fortune 500).
"The Vudu acquisition is a realization that TVs and other entertainment appliances need Internet capability. But on the whole, consumers want unlimited access, not just movies. You can already do this with a Mac mini or Windows-based laptop connected to your TV," Leigh said.
In addition to a tough battle with the tech giants, Wal-Mart will also face major challenges from other retailers. Wal-Mart is getting into the game a bit later than one key rival.
The Vudu purchase comes on the heels of a partnership announced late last year by Best Buy and tech firm Sonic Solutions (SNIC). Best Buy (BBY, Fortune 500) will offer on-demand movies on TVs and other devices through Sonic's Roxio CinemaNow service.
Wal-Mart would not comment for this story. But in a press release about the Vudu deal, Wal-Mart vice chairman Eduardo Castro-Wright said that the combination "will provide customers with unprecedented access to home entertainment options as they migrate to a digital environment."
One analyst said that even though the number of digital movie downloads is still very small compared to DVD sales, it behooves the retailers to try and get ahead of the shift away from physical discs.
"A significant portion of DVD sales go through big box retailers like Wal-mart. So retailers have got to do something. They can't just sit back and let dollars disappear," said Sucharita Mulpuru, retail technology analyst with Forrester Research.
Death of DVDs greatly exaggerated?
But it's hard to imagine that Wal-Mart, or Best Buy for that matter, will be able to supplant the likes of Netflix, Apple or other tech firms already doing well in this business in the near future.
Steven Frankel, an analyst with Brigantine Advisors who covers Netflix and Sonic Solutions, said that in the short-term Wal-Mart's latest entry into digital media will probably be good for everybody.
"Wal-Mart coming into the market helps raise the visibility of digital media services in the living room. Hollywood is very focused on pushing consumers to digital downloads from discs. So there will be a lot of emphasis on this over the next few years," Frankel said.
Still, the DVD isn't dead yet. Frankel pointed out that Netflix is in a great spot because it is able to offer streaming on-demand services with its Watch Instantly service as well as DVD rentals. And that all comes at one price instead of paying per movie.
"Netflix has a tremendous business model. It's a fixed monthly fee and hybrid service," he said.
What's more, the success of Redbox, the $1 DVD rental kiosk service owned by coin counter Coinstar (CSTR), shows that some people are still even (gasp!) willing to leave their house and go pick up a DVD if the price is right.
So it's somewhat ironic that Wal-Mart, which has made a name for itself by focusing on bargains, chose to highlight the cool technological aspects about Vudu and not the price of the service. In its press release, Wal-Mart hyped Vudu's 1080p video library and apps partnerships with Facebook, Twitter and Flickr.
"Consumers are still value conscious and convenience conscious. That's what both Netflix and Redbox cater to nicely," said Will Richmond, an analyst with VideoNuze, a site focusing on broadband video. "Consumers don't care as much about bells and whistles. They care about getting what they want at a reasonable price when they want it."
-- The opinions expressed in this commentary are solely those of Paul R. La Monica.