BofA: No longer hated on Wall Street
NEW YORK (CNNMoney.com) -- It's been a pleasant honeymoon for new Bank of America CEO Brian Moynihan. How much longer will it last?
Moynihan, who took over from Ken Lewis earlier this year after Lewis "retired" in the wake of continued scrutiny of the company's controversial purchase of Merrill Lynch, has much to smile about so far.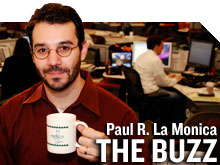 Bank of America's (BAC, Fortune 500) stock is up nearly 6% so far this year, making it one of the best performers among Dow Jones industrial average components.
What's more, BofA shares have done better than rivals Citigroup (C, Fortune 500), JPMorgan Chase (JPM, Fortune 500), Wells Fargo (WFC, Fortune 500), Goldman Sachs (GS, Fortune 500) and Morgan Stanley (MS, Fortune 500).
BofA was considered one of the biggest pariahs in the banking industry during the financial sector meltdown. Lewis was widely criticized by shareholders -- they even stripped him of his chairman title before he stepped down as CEO -- for doing the Merrill deal as Lehman Brothers was about to collapse.
And with BofA receiving $45 billion in taxpayer funds, Lewis became a favorite target of Congress as well. So his departure has to be considered a plus.
"The air is starting to clear, and people are looking at Bank of America again as an investment with upside as opposed to being a company burdened with political risks and suffering from a tarnished reputation," said Anthony Polini, an analyst with RBC Capital Markets.
There has been other legitimately good news for BofA since Moynihan took the helm.
Last week, the bank reported that credit card charge-offs and delinquency rates fell in January from December. That could be a sign that the worst is over for the bank in terms of future loan losses tied to consumers.
In addition, a federal judge earlier this week approved, albeit begrudgingly, the company's $150 million settlement with the SEC over Merrill Lynch bonus disclosures. That means BofA will avoid a lengthy and potentially nasty court battle.
The Merrill bonus issue hasn't completely gone away. New York State Attorney General Andrew Cuomo recently charged Lewis with fraud. But there is even a silver lining here -- Cuomo's office went out of its way to say that Moynihan had no role in BofA's failure to disclose Merrill bonus payment information to shareholders.
Still, are investors ignoring some of the big challenges that remain for BofA? Sure, the credit card numbers are improving, but an annual net charge-off rate of 13.25% in January is not exactly a number to cheer.
Along those lines. Jeffery Harte, an analyst with Sandler O'Neill & Partners, said that he does not like BofA as much as Citigroup and JPMorgan Chase. Harte pointed out that BofA has more exposure to the U.S. consumer than the other two.
With the unemployment rate remaining high and the housing market still sluggish, BofA, which bolstered its mortgage business with the purchase of foundering home lender Countrywide in 2008, may have more near-term credit risks than its rivals.
Bank of America also is set to increase its total number of shares outstanding by 1.3 billion, a move that the bank found necessary to help fund the repayment of its $45 billion in bailout funds to the government.
Shareholders approved the decision Tuesday, apparently feeling that it was best to do whatever it took to get out from under the increasingly onerous restrictions placed on companies that received money from the Troubled Asset Relief Program.
But make no mistake here. Issuing that many new shares will dilute the value of the existing stock. That's not a positive.
Still, BofA was so hated during the depths of the financial crisis that it may still have room to run before its stock looks overvalued again. BofA trades at a discount to many of its competitors on a price-to-book value basis, one of the key measures looked at by bank analysts.
One money manager cautioned that despite its attractive valuation, BofA still isn't out of the woods yet.
Don Hodges, co-portfolio manager with Hodges Capital Management in Dallas, said his firm sold its stake in BofA and other banks in 2008. And even though he runs a contrarian-oriented fund that bets on stocks Wall Street loves to hate, he's still not tempted to buy BofA again.
"We're on the sidelines until we know how much (in) bad loans they really have. Banks are reluctant to recognize bad loans," Hodges said.
But Polini thinks the stock could double in two years. That's obviously a bold call but he said that Moynihan is exactly what BofA needs right now -- a company veteran who will focus on controlling costs. That may seem boring to some, but Polini thinks BofA was better off not trying to find a celebrity CEO.
"BofA needed a leader that would be the least disruptive. Moynihan may not be the most charismatic CEO. He wouldn't be able to fill Jamie Dimon's shoes but he can fill Ken Lewis' shoes," Polini said, referring to the CEO of JPMorgan Chase and current Wall Street golden boy.
And if Moynihan turns out to be BofA's equivalent of Hewlett-Packard's Mark Hurd, a guy who lacks sizzle but delivers results, few shareholders will complain about Moynihan not being as media savvy as Dimon.
-- The opinions expressed in this commentary are solely those of Paul R. La Monica.