Buffett's winners and losers
NEW YORK (Fortune) -- A rousing stock rally has repaired much, but not all, of the damage the 2008 market meltdown inflicted on Berkshire Hathaway's stock portfolio.
Three of the Omaha, Neb., company's biggest positions remain under water -- including a 2008 purchase CEO Warren Buffett later called a "major error" and a company with which Buffett recently clashed on strategy.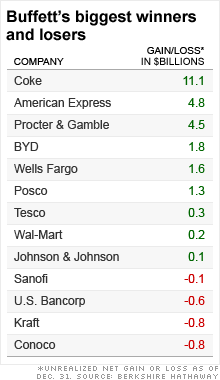 Buffett's annual letter to Berkshire (BRKA, Fortune 500) shareholders, released Saturday, lists the firm's biggest stock holdings and their market values as of Dec. 31.
All things considered, it was a good year: The net value of the firm's stock holdings, subtracting the cost Berkshire incurred in acquiring them, doubled in 2009 to $24 billion.
Eight of the 13 positions were worth considerably more than Buffett, the firm's chief investment officer, paid for them -- notably Coca-Cola (KO, Fortune 500), where Berkshire is sitting on $10 billion in paper gains, and American Express (AXP, Fortune 500) and Procter & Gamble (PG, Fortune 500), where the unrealized profit is closer to $5 billion each. (Berkshire got most of its P&G stock as a result of the consumer products giant's 2005 merger with razor maker Gillette, a longtime Berkshire holding.)
But two major holdings (those constituting publicly traded shares worth $1 billion or more in the market) were worth roughly what Berkshire paid, and three were worth much less.
Those three were ConocoPhillips (COP, Fortune 500), the oil giant of which Berkshire owns 2.5% and is down by $815 million; Kraft (KFT, Fortune 500), the food conglomerate where Berkshire owns an 8.8% stake and is $789 million in the red; and U.S. Bancorp (USB, Fortune 500), where Berkshire holds 4% and is under water to the tune of $636 million.
Buffett spent 2009 cutting his losses on Conoco, the stock whose purchase a year earlier he fingered as his worst mistake in a lousy year. Berkshire has since slashed its stake in the oil producer by 55%, to just under 38 million shares.
Even so, the losses keep on coming: The stock has slid 5% this year to a recent $48, far below Berkshire's average purchase price of $72 and change.
"I still believe the odds are good that oil sells far higher in the future," Buffett said in last year's letter, referring to the collapse of energy prices at the end of 2008. "But so far I have been dead wrong. Even if prices should rise, moreover, the terrible timing of my purchase has cost Berkshire several billion dollars."
Berkshire hasn't lost as much holding U.S. Bancorp, a Minneapolis-based lender that has emerged as a major acquirer of failed banks from the Federal Deposit Insurance Corp.
But the value of Berkshire's stake slipped in 2009 along with U.S. Bancorp's shares, which spent most of the year recovering from the industry's earlier brush with total collapse. The stock has gained 9% this year, which all else equal would narrow Berkshire's deficit on that position to around $500 million.
The third loser is Kraft, the food conglomerate Berkshire started accumulating in 2007. Buffett didn't touch his stake in 2009, but the waters haven't been completely calm: Last month Buffett questioned the company's plans to issue stock in its planned purchase of Cadbury, the U.K.-based candy maker.
Buffett said he would vote against a Kraft plan to authorize the issuance of more shares for the Cadbury deal, on the grounds that issuing more undervalued Kraft shares would hurt Kraft shareholders. Berkshire is Kraft's biggest shareholder.
Kraft subsequently restructured the deal to raise the amount of cash and reduce the number of shares offered, winning over Cadbury's board, and the vote wasn't held. Buffett wasn't mollified, however.
The dangers of issuing undervalued stock clearly have been on Buffett's mind, in light of Berkshire's recent cash-and-stock acquisition of Burlington Northern.
Buffett said he and Berkshire Vice Chairman Charlie Munger like issuing Berkshire stock "about as much as we relish prepping for a colonoscopy," and that the decision whether to issue shares in the Burlington deal "was a close one."
Buffett wrote in this year's letter that corporate directors all too often make the mistake of focusing on the value of assets to be acquired in a merger, rather than on the value of the assets -- company shares -- they are giving up.
"If shares of a prospective acquirer are selling below their intrinsic value, it's impossible for that buyer to make a sensible deal in an all-stock deal," Buffett wrote, in explaining why Berkshire issued stock in the Burlington Northern deal. "You simply can't exchange an undervalued stock for a fully-valued one without hurting your shareholders."
This Buffett knows all too well. Despite Kraft's repeatedly telling Wall Street it wouldn't overstretch for Cadbury, Kraft stock has been trading almost 15% below the price at which Berkshire was buying a few years back.