Foreign companies buy American
NEW YORK (CNNMoney.com) -- The British are coming! So are the Germans. And the Japanese. And the Canadians. And the French.
Merger activity has picked up in recent months. But what's really interesting is that many of the buyers of U.S. companies are from outside the U.S.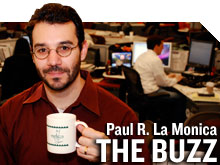 On Monday alone, there was about three deals worth more than a combined $46 billion involved a foreign buyer looking to purchase assets of a U.S. company.
Britian's Prudential PLC (PUK) struck a deal to buy an Asian insurance unit of American International Group (AIG, Fortune 500) for $35.5 billion. Germany's Merck agreed to acquire biotech equipment company Millipore (MIL) for about $7.2 billion. Finally, Japan's Astellas Pharma launched a hostile $3.5 billion bid for biotech OSI Pharmaceuticals (OSIP).
And this is merely the continuation of a trend. Last month, Canada's Fairfax Financial announced it was buying workers' compensation insurance firm Zenith National Insurance (ZNT) for $1.4 billion.
In January, Japanese cosmetics maker Shiseido Co. agreed to buy rival Bare Escentials (BARE) for $1.7 billion and in December, French drug giant Sanofi-Aventis (SNY) inked a deal to buy Chatanooga, Tenn.-based Chattem (CHTT), the maker of Icy Hot and Gold Bond for about $2 billion.
All this cross-border M&A action brings to mind a song title from the most recent album by prog rock band Muse (a guilty musical pleasure): The United States of Eurasia.
Seriously though, the interest in U.S. companies from Europe, Japan and our neighbors to the north has to be considered a good sign.
Experts say that this represents a realization that the U.S. economy may be closer to getting back on track than the economies in other developed countries. After all, it doesn't make a heck of a lot of sense to buy into a market that's not growing.
"There is nervousness about European markets and jitters about an Asian bubble, particularly in China. So that may be leading to a flight to the U.S.," said Philip Stamatakos, partner in the mergers and acquisitions group at law firm Jones Day in Chicago.
"Even though the U.S. economy is walking a tightrope, it is stronger than the alternatives and there is a perception that American assets are undervalued," he added.
Mike O'Rourke, chief market strategist with BTIG, an institutional brokerage firm in New York, agreed. He said that more cross-border deals are likely in the coming months.
"The U.S. recovery appears to be on a better track than Europe or Japan right now. Companies are making a play on the U.S. recovery and want to be in this market," he said.
But O'Rourke thinks it may be a short-lived phenomenon. He said fears that the dollar will gain even more ground against the euro is driving the current interest.
With the euro weakening against the dollar due to the problems in Greece and other so-called PIIGS nations (Portugal, Ireland, Italy and Spain), European companies may be simply rushing to buy U.S. firms now before deals for American companies become more expensive.
"There could be a last-ditch effort to buy U.S. assets before the euro weakens further. For companies looking for U.S. companies, this is the time to finish shopping," O'Rourke said.
Good for the job market
Still, currency fluctuation concerns explain only part of the interest.
Antony Page, a professor of law at Indiana University School of Law-Indianapolis, said that optimism about a U.S. economic rebound is the more important factor. For that reason, he thinks this could be the beginning of a wave of more cross-border mergers.
What's more, this could actually be a positive for one of the hardest hit parts of the U.S. economy: the labor market.
Sure, it may not be the populist, patriotic thing to do to root for American companies to be taken over by firms outside of the U.S.
But think about it. There's a greater chance that a takeover will create massive job cuts when two close rivals in the U.S. merge than when a foreign firm that is looking to enter the U.S. market is buying an American company.
"Any time there's a merger, employees are right to worry about their jobs. Companies talk about 'synergies' and that usually means laying off people," Page said. "But with a foreign company buying a U.S. firm, there is likely to be less overlap. In some ways, it's better to be taken over by a European company than a U.S. company."
Of course, this is not to say that foreign companies would never lay off American workers. Every merger has to be looked at on a case-by-case basis.
But Stamatakos said his law firm is working on several deals where a foreign client is looking to buy a U.S. company -- and that these mergers will result in a net gain in U.S. jobs.
-- The opinions expressed in this commentary are solely those of Paul R. La Monica.