Do you need earthquake insurance?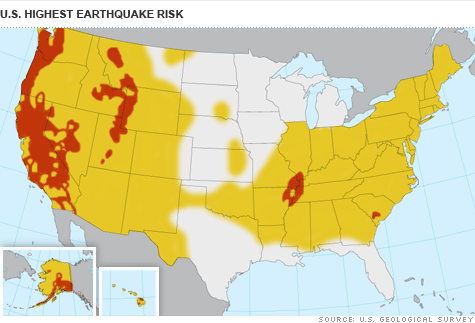 NEW YORK (CNN) -- The earthquakes in Haiti and Chile remind us about how vulnerable our own homes may be in the event of an earthquake. While we have the good fortune to even have the option to buy earthquake insurance for our homes, there are some things you should know about this type of coverage.
1. Your risk
In the United States about 5,000 earthquakes strike each year. Since 1900, earthquakes have occurred in 39 states and caused damage in all 50.
The potential damage and cost of earthquakes is increasing all the time because there's simply more buildings and development in risky areas. Plus, older buildings tend to be more vulnerable to a quake.
While the United States experiences only 2% of the world's earthquakes, some 90% of its population lives in seismically active areas. Some of the most vulnerable cities include: major metro areas in California, Seattle, Portland, New York City, Salt Lake City and St. Louis.
2. Pricing factors
Earthquakes in the United States are not covered under standard homeowners policy. You'll have to buy a separate policy.
Rates vary widely by each insurance company. Some factors that could impact your rate include:
The age of your home. Older homes cost more to insure.
Whether your home is made of wood or brick. Wood homes withstand quake stress better according to the Insurance Information Institute.
Soil consistency. If your home is on land that has a lot of moisture or it's on land that's been filled, your home is more vulnerable to quake. damage, says Jerry Miller with the Independent Insurance Agents and Brokers of America.
How close your home is to a fault line.
These policies are not cheap. In fact deductibles can be anywhere from 2 to 20% of the replacement cost of the structure.
In real terms that means, if the cost to rebuild your house after a quake is $100,000 and your policy has a 10% deductible, you would be responsible for the first $10,000.
And premiums can be expensive too. On an average Los Angeles home, you may pay up to $2,500 a year, says Miller.
3) Other damage
Remember, it's not just the quake itself that causes damage, but tsunamis, floods and fires that occur afterward.
If you have flood insurance, you should be covered, but check with your insurer. If your house catches fire after an earthquake, it should also be covered under your standard policy. Cars and other vehicles are covered for earthquake damage under the comprehensive part of the auto insurance policy.
Talkback: Would you add earthquake coverage to your homeowners insurance policy?