The Dow's best performer is ...
NEW YORK (CNNMoney.com) -- The hottest blue chip stock this year isn't what you think. It's not a big bank on the mend, a gadget maker with a hot new product, or a retailer with soaring sales.
The "It" stock of 2010 so far is none other than that epitome of excitement: Boeing.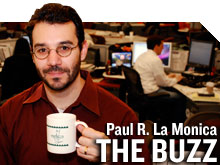 Yes, the company that's one r instead of an e away from being Boring is anything but that this year. Shares of the aerospace giant are up 25%, making it the Dow's best performer by a long shot.
Boeing (BA, Fortune 500) has had a lot going for it as of late. The company's eagerly anticipated 787 Dreamliner jet finally made its first flight last December, more than two years later than the company had originally planned.
In January, Boeing reported a bigger-than-expected profit for the fourth quarter of 2009, as revenue jumped 42%. Meanwhile, Boeing rival EADS, the French parent of Airbus, said Tuesday that it lost money in the fourth quarter and that sales fell.
Airlines such as Southwest (LUV, Fortune 500) and Continental (CAL, Fortune 500) have been reporting improved traffic trends in recent months. That is lifting hopes of increased orders for Boeing.
On the defense side of Boeing's business, the company is poised to win a $40 billion contract to build refueling tanker planes for the Air Force. Northrop Grumman (NOC, Fortune 500) pulled out of the bidding Monday. EADS, which was partnering with Northrop, is not expected to launch a solo bid for the contract.
But is all this good news already priced into Boeing's stock?
Prepare for descent?
Like many other industrial stocks, Boeing was pummeled during the recession. Shares bottomed out at about $30 last March and have since more than doubled.
However, shares now trade at about 17 times 2010 earnings estimates. That's a significant premium to Northrop and other defense contractors Lockheed Martin (LMT, Fortune 500) and Raytheon (RTN, Fortune 500). Those three firms trade at just 11 times 2010 earnings estimates.
George Schwartz, manager of the Schwartz Value fund, said that premium is too rich. Schwartz sold his fund's stake in Boeing last year and conceded he may have been early. He sold when the stock was in the $50s. It's now trading at about $68.
"Boeing's an extraordinary company, but the stock just got to a point where it was no longer undervalued. I sold it too soon, but it's better to sell too soon than too late," he said.
He added that there are risks investors may be overlooking. Boeing's defense, space and security division, which accounts for nearly half of its sales, is still performing sluggishly. Sales rose only 6% from the fourth quarter of 2008.
"The commercial airline business is doing as well as we expected but we thought that the defense side of the business would grow faster. It's been disappointing there," Schwartz said.
Tom Forester, manager of the Forester Value fund, also said he thinks Boeing's stock is fully valued at current prices. He sold his fund's position in the stock at the end of last year, and while he said it's unfortunate he's missed the latest runup, he's not regretting the decision.
"People are buying Boeing based on the hopes of a global recovery. Longer term, the company will do fine, but my concern is the economy seems a little soft still," Forester said.
Or prepare for takeoff?
But Craig Hodges, co-manager of the Hodges funds, argues that Boeing is worth the premium primarily because its non-defense business will allow it to grow much faster than rivals. The fund owns about 250,000 shares of Boeing.
The Dreamliner, which Boeing has touted as being able to use 20% less fuel than other airplanes of similar sizes, could prove to be so much more cost-effective to major carriers that they will be buying 787s for many years, Hodges said.
"You can make the case that Boeing's not a cheap stock. But the valuation could stretch even more from here because of earnings growth," Hodges said. "Every airline is going to want these new planes because of the fuel efficiency."
Ted Parrish, co-manager of the Henssler Equity fund, which also owns Boeing, agrees that the stock may be just beginning a long ascent to even higher altitudes.
Parrish pointed out that Boeing's stock has often enjoyed sizeable gains in the months following the debut of a new plane. He noted that after Boeing unveiled the 757 back in 1982, the stock more than doubled over the next 18 months. As the chart to the upper left shows, that far outpaced the gains of the broader market
"This plane is a once-in-100-years type deal. Yes, the stock has gone far very fast, but Boeing's backlog of orders should grow and their earnings as well," he said. "The sky's the limit for Boeing."
-- The opinions expressed in this commentary are solely those of Paul R. La Monica.