Natural gas crystals: Energy under the sea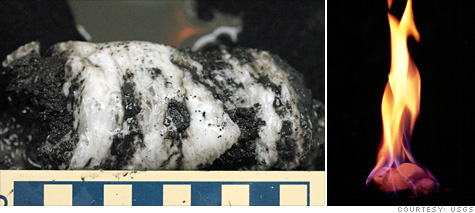 NEW YORK (CNNMoney.com) -- It looks like ice -- but this ice could one day be used to heat your home.
It's actually not ice at all, but crystallized natural gas, and if scientists can figure out how to harvest it cheaply enough, it could become a vast new source of energy available in just about every country in the world.
The big advantage to these crystals, known as methane hydrates, are their abundance. They are found beneath the sea floor off every continent, and under the arctic tundra.
Plus, they're estimated to hold twice as much carbon as all the known reserves of oil, coal and natural gas combined.
"The potential is enough to power humanity from now until the asteroid hits," said Peter Tertzakian, chief energy economist at ARC Financial, a Calgary-based private equity firm.
But citing cost and the abundance of conventional natural gas, Tertzakian said this resource will likely "remain on the margins" for two or three decades.
Origins
The crystals are formed when methane gas, which results from the natural decomposition of animals and plants, comes into contact with water at just the right temperature and pressure.
Finding that sweet spot is actually much much more common than finding the conditions needed for the formation of conventional gas and oil, which require very specific geology. This is why oil is found in some places but not others.
Crystal gas forms almost any place there's low temperature, high pressure and water, making the organism-rich continental slopes ideal spots.
The gas crystals are usually found between a few hundred feet to several thousand feet below the ocean floor and require deep drilling to bring them to the surface. They're most prevalent in water over 1,000 feet deep, and up to about 200 miles offshore.
Although they've been known about since the early 1980s, only in the last 10 years has significant work gone into studying them and figuring out how to extract them.
The U.S. government currently runs a multi-agency research project with scientists from the Department of Energy, the U.S. Geological Survey and the Minerals Management Service, among others. They've partnered with a few corporations, including BP (BP) at a site in Alaska's North Slope and Chevron (CVX, Fortune 500) in the Gulf of Mexico.
Harvesting
Just because a huge amount of the gas exists doesn't mean it all can be collected.
No one has figured out how much gas can be recovered using current technology, said Timothy Collett, a research geologist at the USGS.
But at the BP site in Alaska, Collett said using current technology to go after crystal gas would effectively double the known gas reserves there.
"We're chipping away at the technical issue," he said. "We just have to get at the economics."
And it's the economics that really hold this up.
There are several ways to bring crystal gas to the surface. But the most efficient seems to be to drill a well, like a conventional oil or natural gas well, then decrease the pressure inside. The decreased pressure will cause the crystals to revert to gas and flow out of the well.
But depressurizing a well requires creating a vacuum by continuously pumping the water out of it. That's an expensive proposition.
Collett said in the Arctic, the cheapest place to extract this gas, costs vary. It can be just as expensive as it is now to produce conventional natural gas, to twice that amount. Going offshore gets even more expensive.
Furthermore, with all the gas currently coming online in the United States from the vast shale reserves, it's doubtful crystal gas is going to see much investment in the near term.
"Why would anybody allocate money to gas hydrates, when there's almost a gas glut emerging," said Tertzakian, the economist at ARC.
Yet once the shale gas begins to run out, or if there's a significant increase in demand for cleaner burning natural gas plants, it may be nice to know this resource is available.