The three-figure kitchen makeover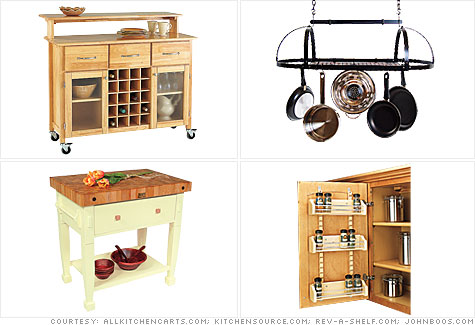 (Money Magazine) -- Living with an undersize, outdated kitchen? If so, a sledgehammer may feel like the only solution. But these days you're probably not up for spending the $50,000 or more -- maybe much more -- it would cost to demolish the space and build a new state-of-the-art room from scratch.
Fortunately you can make your existing kitchen work better with products that aim to solve nagging problems like dim lighting, cramped space, and overflowing cabinets. Even better, most of these clever solutions cost no more than a few hundred dollars.
Not enough workspace
If your kitchen is skimpy on counter-tops, create extra space for chopping, kneading, mixing, and assembling your family meals with a sturdy counter-height worktable (about $200 to $1,500 at johnboos.com, roomandboard.com, or ikea.com). Just leave yourself room to maneuver -- at least 36 inches of floor space on each side of the table, 42 inches where there's an appliance, says Mark Karas, manager of Adams Kitchens in Stoneham, Mass. Not enough square footage? Get a table with locking wheels (such as the $1,400 Quovis at dwr.com) and roll it against a wall when it's not in use.
Another trick: Free up existing counter space by mounting small appliances under the cabinets. Black & Decker's stainless-steel Space-maker appliances hang easily ($30 to $90 each at bdspacemaker.com). If you're a java gourmand, check out Brewmatic's upscale coffeemakers ($500 to $600 at poshportage.com), which hang from the cabinet with a large thermos-style carafe resting on the countertop below. Since microwaves are giant space hogs, consider installing a built-in microwave-and-vent combo over the stove ($200 to $1,200 at bestbuy.com, plus installation). And while you're at it, trade that countertop spice rack for an adjustable wood one that mounts to the inside of an upper-cabinet door ($90 at rev-a-shelf.com).
No place to eat
Long for a modern breakfast bar? The most space-efficient way to add an eating area to a small kitchen is with a prefab breakfast bar island ($400 to $2,000 at allkitchencarts.com, surlatable.com, and ekitchenislands.com). It can seat from two to four family members and often includes storage compartments or stool-stowing space underneath. Keep in mind you'll need 48 inches of clearance -- 54 inches if there's an adjacent appliance -- on any side with seating.
For an even cheaper option, create a simple breakfast bar by hanging an 18-inch-deep shelf along a wall 40 inches above the floor, using drop-leaf support hardware ($20 at rockler.com) so that you can fold the top down when it's not in use. For any breakfast bar, order stools with seats about 10 inches lower than the eating surface. And opt for seats without backs if you want to slide them completely under the bar when no one is sitting on them.
Jam-packed cabinets
Start by removing everything, tossing what you don't use, and re-thinking where you locate what you do. Like items should be grouped together, and the more often you use something, the more centrally located it should be.
"Your baking stuff should go in one spot, your cooking stuff in another, your coffee stuff in another," says Jeri Dansky, a professional organizer in Half Moon Bay, Calif. Then, add in storage devices to maximize accessibility.
Among Dansky's favorite products: chrome roll-out drawers that fit into deep base cabinets ($60 to $80 at stacksandstacks.com) and adjustable under-sink shelves that fit around the pipes ($15 at organizeit.com).
If you have a severe cabinet shortage, consider the $130 plate rack at plowhearth.com, which will let you mount your plates on the wall, or a hanging pot rack like the ones at kitchensource.com ($50 to $800).
Dim lighting
A single ceiling fixture provides no direct task lighting for food prep, pot washing, bill paying, algebra homework, late-night snacking, or any of the other activities we do in the kitchen. The easiest way to brighten the countertops is to hang wireless Rite-Lite LED light bars ($20 each at amazon.com) into the recessed bottoms of the upper cabinets -- but they'll churn through AAA batteries so fast you'll be buying coppertops by the gross. A better solution is Priori's xenon system ($200 to $500 at budgetlighting.com or lighting-universe.com), which also hides under the cabinets; it strings together like Christmas-tree lights and simply plugs into a backsplash outlet. Adding electrical circuits will have to wait for the sledgehammer job.

Money magazine is looking for Detroit families (including people who have recently moved away) who are willing to discuss their finances and are looking for financial advice. If interested, email your contact information to gmannes@moneymail.com.