Big business to investors: We're cheap!
NEW YORK (CNNMoney.com) -- Big businesses have a lot of cash, and many are starting to put it to use -- to invest in themselves.
There have been a flurry of large share buyback announcements on the past few months.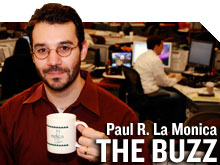 So far this year, Applied Materials (AMAT, Fortune 500), Qualcomm (QCOM, Fortune 500), DirecTV (DTV, Fortune 500), Lowe's (LOW, Fortune 500), The Gap (GPS, Fortune 500) and Philip Morris (PM, Fortune 500) -- to name a few -- have all said they are looking to repurchase at least $1 billion worth of their own shares.
The most recent -- and biggest -- buyback announcement came from PepsiCo (PEP, Fortune 500) on Monday. The soft drink and snack food giant plans to repurchase up to $15 billion in its own stock.
Shares of Pepsi shot up 1.5% on the news, and that should not be a major surprise. Investors typically cheer buyback news for two simple reasons.
The first reason is that if a company believes its own stock is such a value that it's willing to put its money where its mouth is and buy shares, that's a sign of confidence.
David Ikenberry, associate dean at the College of Business at the University of Illinois at Urbana-Champaign, said it's particularly noteworthy that companies are announcing more buybacks now.
That's because many firms were reluctant to do so during the worst of the recession.
"We just walked through the valley of capital death where cash was king and debt was troubling. Dividend payments and share repurchases at many companies were cut back or shut off," Ikenberry said. "We should see an avalanche of buybacks as companies look to redeploy their capital."
Ikenberry said it's also telling that companies are making their announcements now, after the market has already enjoyed a big surge in the past year. Stocks are no longer nearly as cheap as they were during the early part of 2009.
So an increase in buybacks could be viewed as further evidence that the economy and markets are slowly returning to normal. Even if stocks are not screaming bargains any more, they are still at least reasonably valued enough to be a good investment.
The other reason investors like buybacks is because when a company repurchases stock, the number of shares outstanding should be reduced. And that should increase earnings per share, since the denominator in the equation is now lower.
Still, are buybacks as positive as investors make them out to be?
Paul Nolte, managing director with Dearborn Partners, an investment firm based in Chicago, said some companies simply announce repurchase plans and don't actually buy back the stock. In other instances, the buybacks can take place over a period of years. So the impact is gradual and minimal.
In addition, buybacks may not even reduce the share count if they aren't able to offset the issuance of new shares that results from acquisitions and/or the exercising of stock options that executives receive as part of their annual compensation.
"You have to look to see if the amount of shares outstanding is actually shrinking in order to see if buybacks are really having an impact on earnings," Nolte said.
John Snyder, manager of the John Hancock Sovereign Investors fund, said that he doesn't mind when companies repurchase shares. But he prefers it when they boost their dividend.
"It's more positive when a company takes money and increases its dividend," he said. "Dividends are real money. Shareholders get paid actual cash. With buybacks, you have to hope they work."
Fortunately, several companies that have announced buybacks this year have done so in conjunction with an increase in the dividend.
That was the case with Pepsi on Monday. Qualcomm, Lowe's and The Gap also raised their dividends when they disclosed their most recent buyback programs.
But Snyder, who owns Pepsi in his fund, said he does not look at buybacks as a reason to purchase a stock. After all, companies may be signaling that they believe the shares are a bargain when they announce repurchase programs. But that doesn't mean they are right.
Many big banks bought back shares during 2003-2007. Those turned out to be terrible purchases after the financial sector started to show some cracks in 2007 and then imploded a year later.
But Ikenberry said there's little downside to a buyback. He's done several studies of companies that have announced share repurchase programs, and said companies that simply announce buybacks tend to outperform those that don't have any such programs in place.
Ikenberry added that companies with a lot of cash that use this money for acquisitions are often rewarded in the short term -- but that a series of mergers can often do more harm than good.
"Growth for the sake of growth is not a good idea. Nobody ever went out of business because of a buyback," Ikenberry said.
Snyder agreed, saying that while he still would take a dividend over a buyback, a share repurchase program is a better option than a major takeover.
"I'd rather have companies do a buyback than make some large, non-strategic acquisition that's going to dilute value for shareholders," he said.
-- The opinions expressed in this commentary are solely those of Paul R. La Monica.