Dodd: Time to reform Wall Street is now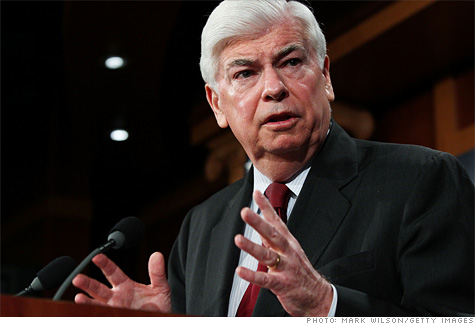 WASHINGTON (CNNMoney.com) -- The head of a key banking panel on Monday released a draft bill of sweeping regulatory changes aimed at warding off future collapses in the financial system.
The bill put forth by Senate Banking Committee Chairman Christopher Dodd, D-Conn., would create a new consumer regulator housed inside the Federal Reserve to ensure consumers get a fair shake with mortgages and credit cards. It would also push banks and financial firms to strengthen capital cushions and create a new process for taking down giant failing companies and preventing future Wall Street bailouts.
"We must plug the gaps and eliminate the inefficiencies that allowed this crisis to happen in the first place," Dodd said in a news conference.
The bill also includes a version of the controversial rule proposed by former Fed chairman Paul Volcker -- and heralded by President Obama -- aimed at prohibiting financial firms from owning hedge funds or from engaging in proprietary trading on their own accounts.
But the Senate proposal isn't as strong as some were expecting and would create an oversight panel that would have leeway to set rules.
Tight timeline
Dodd wants the banking committee to consider the bill next week and vote before the next congressional recess, which is scheduled to start March 29. He wants to ensure the regulatory overhaul makes it to the Senate floor before the last week of May, because midterm elections could complicate getting a final agreement.
The House passed a version of regulatory reform in December.
Late Monday, Republicans started blasting Dodd's speedy process and decrying the bill's length, which comes in at more than 1,300 pages.
"Forcing the banking committee to vote on this proposal in a single week is unrealistic and undercuts the potential for bipartisan agreement," said Sen. Richard Shelby, R-Ala., the lead Republican on that panel.
Meanwhile, the White House, Treasury Secretary Tim Geithner and several Senate Democrats on the banking panel all issued statements signaling support.
"Chairman Dodd's bill modernizes regulations for the financial industry while also preventing future bailouts," said Sen. Mark Warner, D-Va.
House Financial Services Chairman Barney Frank, D-Mass., was also supportive: "Sen. Dodd has put forward a thoughtful, comprehensive bill which will, once the Senate has acted on it, form a very solid basis for a House-Senate conference, to produce the tough regulatory reform that President Obama has rightly asked for."
Consumer protection: The draft would create a consumer financial protection regulator housed inside the Federal Reserve. That differs from the House proposal, which calls for a stand-alone agency -- something Republicans and banks oppose.
The consumer regulator would be led by a presidentially appointed director, confirmed by the Senate and bankrolled by the Fed. It would have the ability to examine and enforce consumer rules at mortgage banks and financial firms at banks and credit unions that have more than $10 billion in assets.
However, when it comes to payday loans and auto loans, the bill gives regulators the choice to review the products and set rules for regulation. Consumer advocates don't like that.
"We don't know why we have to study whether or not to enforce laws over payday lenders," said Ed Mierzwinski, national consumer program director at Public Interest Research Groups (PIRG).
Also, consumer protection rules could be vetoed by two-thirds vote of the proposed regulatory oversight panel.
Too big to fail: The bill would steer big financial firms teetering on the brink of collapse toward special bankruptcy proceedings, allowing them to wind down more quickly than under the existing system.
The bill includes a tax on the largest financial firms to create a resolution fund of $50 billion. The fund would be used to pick up part of the tab for banks and financial firms that need help beyond the bankruptcy system. There's also the possibility for additional taxes on large firms after a failed company has tapped the fund.
Banking supervision: The regulatory role of the Federal Reserve is poised to get scaled back to overseeing only the largest banks with more than $50 billion in assets. And the Federal Deposit Insurance Corp. would get new powers to regulate smaller state-chartered banks.
Dodd also suggested merging two bank regulating agencies, as the House proposes in its bill, to get a stronger set of eyes on savings and loans and mortgage lenders.
Although Dodd last November suggested a super banking regulator to supervise all the banks under one roof, that idea has been scrapped.
Early warning system: The Senate, like the House, wants to create a nine-member advisory oversight council of regulators who could sound an alarm before companies are in position to trigger a financial crisis. In this way, the bill would attempt to prevent failures such as those of Lehman Brothers that can deepen financial meltdowns across the globe.
In the Senate, Dodd wants to give the Treasury Secretary a key role leading such oversight, while the House wants the Federal Reserve to take the lead.
Derivatives: With an eye toward preventing future collapse like that of American Insurance Group (AIG, Fortune 500), the Senate will attempt to shine a brighter light on some of the different kinds of complex financial products. It would pass some of these derivatives on to clearinghouses, which would help pinpoint the value of such trades.
However, there's still a lot of disagreement among lawmakers about which derivatives would continue unregulated, such as those traded by big agricultural and airline companies to mitigate risk.
Other changes: The president of the New York Fed would be appointed by the president and would be a permanent member of the Federal Open Market Committee, which sets interest rates. Currently, banks have a big role in choosing who runs the New York Fed.
The bill also requires agencies that rate securities to disclose their methodologies. It also makes these credit rating firms more at risk for lawsuits if they're "reckless" and ignore outside, independent analysis.
-- CNN's Jessica Yellin contributed to this report