How TOMS Shoes founder Blake Mycoskie got started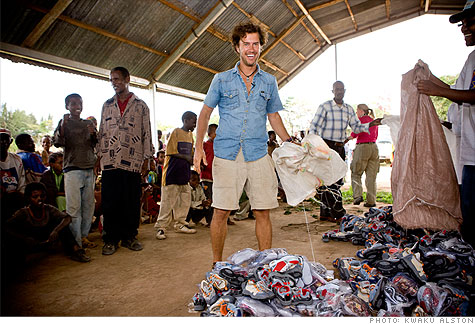 (Fortune Magazine) -- My first venture was a door-to-door laundry business for students that I started while on a partial tennis scholarship at Southern Methodist University in Dallas. I wanted to do something that didn't depend on my hands to create value.
My father is a doctor, so when he's playing golf, he's losing money. When I came out of a business class and saw my trucks picking up laundry, I thought, I'm in class and making money at the same time.
After we expanded EZ Laundry to four colleges, I sold my share. I moved to Nashville to start an outdoor-media company that Clear Channel scooped up three years later.
In 2002 my sister and I teamed up to compete on the CBS reality show The Amazing Race. We didn't win, but my travels during the show led me back to Argentina in 2006. On my visit I saw lots of kids with no shoes who were suffering from injuries to their feet.
I decided a business would be the most sustainable way to help, so I founded TOMS [in Santa Monica], which is short for a "better tomorrow." For each pair of shoes sold -- TOMS are based on the classic alpargata style worn in Argentina -- we donate a pair to a child in need.
AT&T (T, Fortune 500) found the story so compelling that it decided to feature us in a television campaign last year. Today TOMS can be found online and in stores like Whole Foods (WFMI, Fortune 500) and Nordstrom (JWN, Fortune 500), and on the feet of more than 400,000 kids in countries like Argentina and Ethiopia.
Secrets of my success
Personalize it
Storytelling is the new marketing. I think that's why AT&T called me to appear in its commercial, because stories get shared and spread much more than a message or a product.
Beware experts bearing gifts
As entrepreneurs we often get pressured into hiring an industry executive. While it's good to hire people with experience, it can also be a stumbling block because they think about the business the same way everyone else does.
No clock punchers
Walk away from anyone who is unduly focused on vacation and compensation. It's a sign of potential trouble. No matter how talented you are, if you don't really want to work at TOMS, you'll never work out here.
Spend!
Instead of squirreling away your earnings early in your career, spend on experiences that will enrich your life -- like diving with great white sharks. It can expose you to influential people who could open doors for you.