Kids caught in Medicaid pay crossfire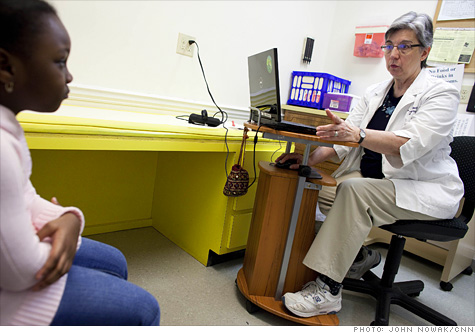 NEW YORK (CNNMoney.com) -- A kid with a fractured leg highlights the problems Dr. Jaquelin Gotlieb's pediatric practice is having with Georgia's Medicaid system.
"I needed to send the child to a pediatric orthopedic surgeon," said Gotlieb. "I couldn't find a specialist who took Medicaid. It took so long that the leg healed on its own."
Gotlieb said getting paid "fairly" by Medicaid is such a problem for Georgia's doctors that many are no longer taking new patients, or dropping patients altogether. Others, she said, are going out of business because the payments from the program don't cover their costs.
The impact on her Atlanta-area practice has been profound. Because two pediatric clinics have closed in her area, she's seeing a lot more patients.
"This is the first time in my life that I'm seeing as many as 30 patients a day," said Gotlieb. "It's an extremely high number for me."
Consequently, as the number of Medicaid patients grow at her practice, Gotlieb said she's also losing money instead of making more money.
"It's become a desperate situation for us," said Gotlieb, who says 62% of her patients are now on Medicaid. Her practice, the Pediatric Center of Stone Mountain, has already laid off one of its four doctors since January, and four other employees were let go in the past three weeks.
The problem is so acute that she's trying to cut back on new Medicaid admissions.
"We are in a mid-to-low income area with a growing immigrant and refugee population," explained Gotlieb. "Many of my patients are normal, healthy kids, but many have complex problems or special needs."
Her biggest fear right now is what will happen to these children if she goes out of business.
Medicaid issues
Medicaid, a jointly-funded Federal and state program, provides health insurance for about 44 million low-income people nationwide. These include children, pregnant women and special needs patients.
According to the federal government's Center for Medicare and Medicaid Services (CMS), Medicaid payments to providers typically are lower than what Medicare -- a public health insurance program for people 65 and older -- pays providers for services that are comparable, such as sick visits. Medicare payment rates also tend to be significantly lower than private insurers.
For example, if a doctor who accepts Medicare normally charges $100 for an elderly person's sick visit, Medicare pays the doctor about $76. But, should a child with the same illness visit a doctor who takes Medicaid, that doctor will get paid about two-thirds of the Medicare rate, or about $50.
"Medicare is a federally managed health insurance program and the payment rates are set by Congress," said Mary Kahn, a spokeswoman for CMS. But she said that the nature of Medicaid allows states to pay whatever they want.
"States sometimes pay pennies on the dollar of what it costs providers," Kahn said. "[CMS] doesn't have the authority to override what states decide."
"This has led to access issues, particularly for Medicaid beneficiaries, finding providers who accept Medicaid," she added.
Dr. Judith Palfrey, president of the American Academy of Pediatrics (AAP), said the inequity in payment rates between Medicaid and Medicare is a "really serious issue" for pediatricians.
Doctors opting out
Dr. Avril Beckford, president of the Georgia chapter of the AAP, said Gotlieb's situation isn't an isolated one in her state.
In a January survey of 230 pediatricians in the state, 79% said their practice is still open to treating new Medicaid patients.
But, when asked what changes their practice would make if the state were to enact another round of Medicaid rate cuts, 57% said they would reduce the number of Medicaid patients and another 27% said they would drop all Medicaid patients.
Georgia last cut Medicaid payment rates to providers by 5-1/2% in July 2003 and the state has not increased Medicaid payment rates since then.
However, Beckford said she's worried that the state will again target Medicaid for a payment rate cut as it struggles to cope with a growing budget deficit.
"If that happens, it will cripple pediatrician participation in Medicaid," she warned.
Because pediatric specialists are also paid less by Medicaid than if they were to perform the same procedure on an adult patient, Gotlieb said she's still having problems referring her patients to a specialist who still accepts Medicaid -- as happened in the case of the child with the fractured leg.
Despite her challenges, Gotlieb said she won't drop her Medicaid patients.
"Do we have the choice to drop some of them? Yes, we do. But it's morally very difficult to do that."