Tax breaks for hiring the unemployed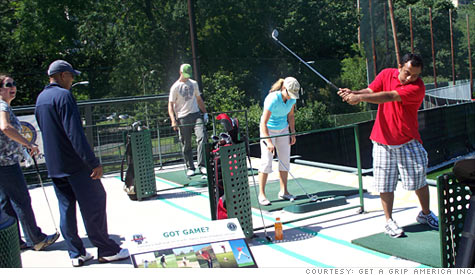 NEW YORK (CNNMoney.com) -- A scaled-down, $17.6 billion jobs bill signed into law by President Obama on Thursday features a handful of benefits for business owners, but falls short of the sweeping hiring incentives President Obama and some lawmakers on Capitol Hill initially pushed for.
The bill offers employers two tax breaks for qualifying new workers hired in 2010. Companies will be exempt from paying their share of Social Security payroll taxes, normally 6.2% of a worker's wages, for any new worker who was unemployed for the prior 60 days. (Workers will still have to pay their own Social Security tax share.)
Each of those new employees retained for a full year would net the company an additional $1,000 back on its 2011 tax return, or 6.2% of the wages paid to the employee in 2010, whichever is less. Companies of any size can claim the credits, for an unlimited number of workers. The measure's estimated cost is $13 billion over 10 years.
"This tax cut will be particularly helpful to small business owners," Obama said as he signed the bill. "Many of them are on the fence right now about whether to bring in that extra worker or two, or whether they should hire anyone at all. This jobs bill should help make their decision that much easier."
Separately, the legislation extends a provision to that allows small businesses to write off as much as $250,000 of their capital expenditures in 2010. The expanded "section 179" deduction first came into play two years ago, as part of a 2008 stimulus bill, and was renewed in 2009. Extending it gives companies considering buying assets like vehicles and machinery an incentive to do it this year.
Section 179 truly is a small-business tax break: It begins phasing out when a business spends more than $800,000 annually on equipment. The measure's estimated cost is $35 million over the next decade.
The view from the trenches
Entrepreneur Ronald Carroll says both measures will be a boon for his growing business. Get a Grip America, based in Chicago, organizes athletic and social gatherings for urban professionals. Carroll, who currently has eight part-time employees, plans to expand into San Diego and New York in the coming year.
He likes the idea of using the tax credit to hire workers who may have been out of the job market for a while, but have some work experience. "We pay really well, and it is amazing the people we hire right out of college -- they are totally undependable. They act like there is no recession going on," he says. "If you can get someone who has a lot of other experience, I would have no problem teaching them."
Carroll also plans to invest this year in a van for the business and in new laptops and projectors for company seminars. The Section 179 deductions will make those purchases more affordable and allow him to put more money into building his company.
"Depending on how much they let us write off, it makes a big difference," he says. "I can use my profit to expand. I am trying to do it without a line of credit. We are doing it by our bootstraps."
But some struggling small business owners see the jobs bill as putting the cart before the horse. Firms devastated by the recession need help rebuilding before they'll be in a position to create jobs, they say.
Volley Goodman runs a boutique real estate company, CallVolley.com, in Houston. He has owned the company for three years, but business has been nearly dead since the start of 2010. He tried to get a government-backed America's Recovery Capital loan to pay down accumulated credit card debt and reinvest that cash in marketing, but was turned down.
"I have to use everything that I make to pay overhead and business expenses, and I cannot do the online advertising I would like to do," Goodman said. "You have to think, most people are suffering from declines -- they are not looking to hire new people."
What's next
President Obama in January proposed a broader jobs stimulus, including a $5,000 per worker tax credit for every net new worker companies hire this year, as well as a Social Security tax waiver on 2010 payroll increases. His proposal would cap those credits at $500,000 per company, and have a $33 billion estimated price tag.
On Thursday, as he signed into law the $17.6 billion jobs bill, Obama made a point to congratulate Republicans and Democrats for overcoming partisan politics to get the bill pushed through Congress. But he also made it clear that he expects further action.
"Make no mistake: While this jobs bill is absolutely necessary, it's by no means enough," Obama said. "There's a lot more that we're going to need to do to spur hiring in the private sector and bring about full economic recovery."
But Congress -- especially the Senate -- has pushed back against approving sweeping and expensive jobs initiatives.
Senate Majority Leader Harry Reid, D-Nevada, says his chamber will instead tackle the problem with a series of incremental measures.
The Senate last week passed a $140 billion bill that includes a provision extending bank incentives for Small Business Administration-backed loans through the end of 2010. The temporary incentives have been in place since February 2009, but are set to expire at the end of the month unless Congress intervenes.
The estimated cost of the SBA lending extension is $354 million. The entire bill now moves to the House of Representatives for consideration.