Stock price makes Palm sweaty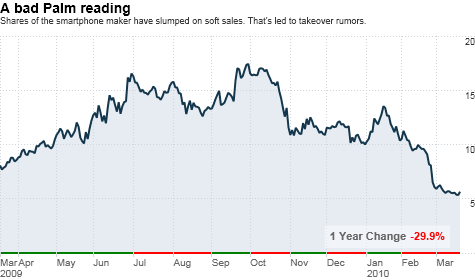 NEW YORK (CNNMoney.com) -- If there were a tournament for smartphone companies like the March Madness men's college basketball championship, Nokia, Apple, BlackBerry maker Research in Motion and Motorola would likely be the top seeds.
But Palm, maker of the Pre and Pixi and once a leader in the mobile device market (remember the Pilot?), probably wouldn't even be invited.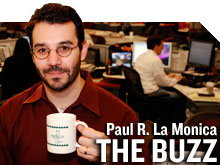 Shares of Palm (PALM) recently hit a 52-week low as doubts swirled about the company's future. The company reported its fiscal third-quarter earnings after the bell Thursday and the numbers were bleak.
Palm warned late last month that revenue for the quarter and full fiscal year would be below forecasts as the Pre and Pixi, which both debuted in 2009, failed to catch the imagination of gadget lovers.
The company reported a loss of 61 cents per share for the quarter. Analysts had been expecting a loss of 43 cents per share. Making matters worse, the Wall Street consensus forecast is for Palm to lose money for fiscal 2010, which ends in May, and fiscal 2011. Palm has not posted a quarterly profit since the fourth fiscal quarter of 2007.
But could Palm's woes be an opportunity for a rival? Takeover chatter has surrounded Palm for a while. And now that the company's market value has sunk to under $1 billion, it's possible that a suitor might finally think the price is right.
Analysts say there's still some value in Palm, even if you look beyond its slumping hardware sales. The company's patents and mobile operating system webOS could make it an attractive fit for a rival.
During the past few years, Dell (DELL, Fortune 500) and Hewlett-Packard (HPQ, Fortune 500) have been mentioned as potential acquirers, since neither of them has a significant presence in the mobile device world.
More recently, Nokia (NOK) and Microsoft (MSFT, Fortune 500) have been cited as possible buyers. Even Apple (AAPL, Fortune 500) and Google (GOOG, Fortune 500), which is hoping to take the smartphone world by storm with its Nexus One phone and Android operating system, have been touted as good fits for Palm.
Michael Walkley, an analyst with Piper Jaffray, said a takeover by any of the aforementioned firms is "not out of the realm of possibility" because of how important intellectual property is in the wireless world.
The potential for lucrative royalty payments tied to Palm's technology could tempt some company to make a bid for the company. But Walkley thinks Palm would prefer to go it alone.
Palm said last month it had more than $500 million in cash and Walkley thinks that "buys them some time." But how much time is an open question.
Shaw Wu, an analyst with Kaufman Bros., argues that Palm could run out of cash within 4 to 6 quarters unless sales turn around or the company cuts expenses.
But Palm's in a damned-if-it-does, damned-if-it-doesn't situation. Wu said Palm has to keep investing in new technology and advertising in order to stay competitive with the likes of Apple, Google and RIM.
"The biggest issue is around the cash burn. Palm has to show a path to profitability and so far they haven't. But they have no choice but to keep spending," he said.
Walkley added that Palm's recent marketing blitz may be too little, too late. He said Palm is now playing catch-up, advertising heavily for the new phones that debuted with Verizon (VZ, Fortune 500) earlier this year. He thinks Palm didn't do enough to market these phones when Sprint (S, Fortune 500) first started selling them a year ago.
"The one thing that's a head-scratcher for me is that you see Palm ads everywhere now. They've ramped up advertising, but it may be too late," Walkley said. "It would have made more sense to create more awareness when they launched last year."
Still, one fund manager who owns Palm but asked not to be named said it's premature to write off Palm just yet. The manager pointed out that fortunes can change quickly in the wireless world, and held out hope that new phones from Palm will strike a chord with consumers.
The manager added that a takeover can't be ruled out either. But that brings us back to all those rumors. For a company that's supposedly in play, why is Palm's stock still in the dumps?
Wu and Walkley both said that because of Palm's well-known problems, there's no sense overpaying for the company.
Palm has little leverage to negotiate a higher price. Walkley pointed out that speculation about AT&T (T, Fortune 500) delaying the launch of Pre, Pixi or other Palm smartphones using webOS, is hurting Palm as well.
Wu added that it's difficult to figure out how to value Palm since it is continuing to lose money and does not appear to have a strong product lineup either. He said the most valuable assets are probably the software developers.
"What's Palm worth? People don't really know. You're not buying the company for the revenue. It's the webOS software, the people and the patents," Wu said. "And if you're interested in the talent, you don't need to buy the company. You can just hire them away."
- The opinions expressed in this commentary are solely those of Paul R. La Monica.