Chrysler to make electric Fiat 500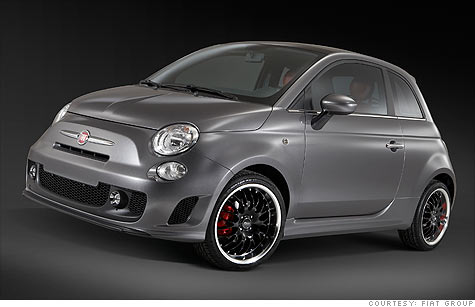 NEW YORK (CNNMoney.com) -- Chrysler Group announced Monday that it plans to produce a purely electric version of the iconic Fiat 500 minicar.
Chrysler is already set to begin selling the gasoline-powered 500 through Chrysler dealerships later this year.
The electric version will go on sale in 2012, a Chrysler spokesman said, with a price that will be "competitive" with other fully electric vehicles, such as the Nissan Leaf, that will be on sale at that time.
A concept version of the Fiat 500 EV was shown in January at the 2010 Detroit Auto Show.
While the basic 500 is a Fiat product, the electric drive machinery was created and adapted for the 500 by Chrysler. Chrysler is now the 'center of competence" for vehicle electrification for both Chrysler Group and Fiat, the spokesman said.
Chrysler emerged from bankruptcy in June of last year and the two companies share the same chief executive, Sergio Marcchionne.
Prior to its bankruptcy, Chrysler had maintained a separate electric vehicle division, called Envi. While that division has been dissolved, Chrysler has said it continues to work on electric cars.
"Fiat gave us a lot of opportunities," the spokesman said. "A lot of platforms we didn't have before."
The 500's small size and light weight make it ideal for electric power, he said.
Chrysler also announced a plan to produce 140 plug-in hybrid Ram trucks as part of a demonstration project. The trucks, which will have up to 65% better fuel economy and an electric-only driving range of up to 20 miles, are being produced with the help of a $48 million Department of Energy grant.
At the same time, the automaker announced it was ending plans to produce a non-plug-in Hybrid version of the Ram truck, which had been expected to go on sale this year.
"After closely evaluating the response to hybrid pickups in the marketplace, the company could not formulate an appropriate business case," Chrysler said in a corporate announcement.
The Ram Hybrid was going to use a hybrid system co-developed with General Motors. GM began selling its own hybrid full-size truck last year.