Why $3 gas won't be a problem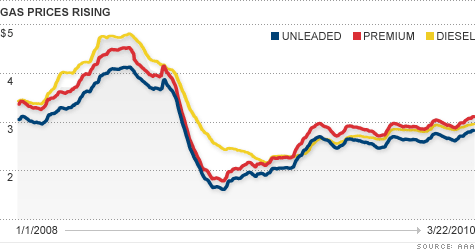 NEW YORK (CNNMoney.com) -- The average nationwide price of a gallon of gas is creeping close to $3 a gallon, bringing back bad memories from the summer of 2008. If gas tops the $3 mark, will that kill the economic recovery? Or will consumers just shrug their shoulders and keep driving and spending?
Several experts think it will be the latter. For one, gas prices are still well below the all-time highs of 2008. Even at $3, they're still a long way from the peak of $4.11 a gallon. And few expect prices to get anywhere close to that anytime soon.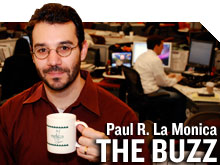 "I wouldn't be surprised if gas goes as high as $3 a gallon or a tad over," said Mark Zandi, chief economist for Moody's Economy.com in West Chester, Pa. "But that is not enough to undermine the recovery."
Zandi said he expects gas prices to head lower again after the summer. And that's key. He thinks consumers can tolerate $3 a gallon for gas if it's just for a few months. But if prices don't fall again after the summer and $3 gas is the new normal, that could be a problem.
"If gas goes above $3 and stays there for any extended period of time, particularly after the summer, there would be broader concerns for the economy and consumer spending," he said. "Any money you put in your gas tank means less you have to spend on anything else."
Gas prices haven't been above $3 a gallon since October 2008. It's important to remember how different the economy was two years ago.
Gas prices spiked that summer, partly due to a speculative frenzy. The dollar was significantly weaker against the euro and other currencies and that helped push the price of oil, which trades in dollars, to record highs.
Consumers, fearing the impact of higher gas prices on their wallets, actually changed their behavior as a result. In addition to driving less, people shifted away from gas guzzling SUVs and other large vehicles and started to buy smaller cars.
That shift is one reason why GM and Chrysler were forced into bankruptcy last year and why Ford (F, Fortune 500), which had a big hit on its hands with the fuel-efficient Focus, was able to avoid Chapter 11.
But once demand for oil and gas fell off a cliff in the wake of the Lehman Brothers implosion and the credit crunch, prices tumbled precipitously, falling as low as $1.62 a gallon by late December 2008. They've been steadily rising ever since as the economy has inched back from the brink of disaster.
With that in mind, Zandi said that if gas prices continue to head higher because the economy is improving, that's not necessarily a bad sign.
"If prices are going up because of demand increasing, there are positive implications to that," he said. "People are traveling. They're going to work."
Terry Clower, director of the Center for Economic Development and Research at the University of North Texas in Denton, Tx, added that at $3 a gallon, consumers won't modify their budgets that much.
"It would feel more painful if gas prices go up above $3. But for many people, it's just a psychological impact," Clower said. "Prices may need to go up another $1 per gallon before consumers would start making serious choices about changing their discretionary spending."
'Tis the season for higher gas prices
There's another reason to not get too worked up over the recent increase in gas prices. It really shouldn't come as that much of a surprise for simple seasonal reasons. Spring has finally sprung, after all. And as the weather gets nicer, people do tend to drive more. Higher demand equals higher prices.
What's more, many refiners shut down for portions of March for maintenance, said Troy Green, national spokesman for motorist group AAA. The resulting hit to supply tends to lead to a temporary rise in prices.
Finally, Green pointed out that there are different grades of gas that are sold depending on the season. The so-called summer blend of gas is more expensive because of additives that make it burn more cleanly.
Still, Green said that it does not appear that demand for gas has risen that dramatically yet. The economic recovery is still fragile. So even though gas is likely to reach and even top $3, he thinks it's doubtful it will head much higher than that.
"There's a chance that we could get to $3 a gallon as we get closer to Memorial Day. But I don't think there will be a dramatic escalation like there was in the summer of 2008," Green said.
- The opinions expressed in this commentary are solely those of Paul R. La Monica.