3 lessons for investing overseas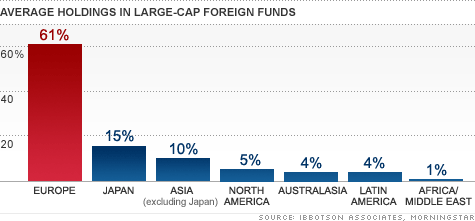 (Money Magazine) -- Greece, of all places. Who knew you had to worry about what happens in Greece?
In February concerns about the Greek government's deficits -- and then Italy's, and then Spain's -- had global stock markets spooked, and stoked anxieties about the value of the euro.
U.S. investors took a hit, but it was worse if you had money abroad. The MSCI EAFE index of foreign stocks is down 5.2% so far this year. Europe, it turns out, is a lot like the U.S.: too much debt, too few jobs, cratering real estate, and lots of noisy squabbling over fiscal policy.
Advisers as well as financial gurus like Wharton's Jeremy Siegel have long urged Americans to invest abroad. And people were finally listening: Last year $68 billion flowed into foreign stock funds as money left domestic funds.
Foreign investing is supposed to offer diversification as well as a shot at better growth. Right now it doesn't feel as if you're getting either. So is the new conventional wisdom bunk?
Not exactly. Going abroad makes sense. But to do it right, understand three key lessons from the latest mess.
1. No refuge in a panic
Spreading your bets all over the globe can reduce risk, but perhaps not the way you expect. It doesn't ensure that you'll always have at least one stock fund that's making money; indeed, when crises hit, all stocks, both U.S. and foreign, will usually collapse en masse as investors seek liquidity and safety.
But over the long run, says Rick Ferri, an adviser in Troy, Mich., a stake overseas can still lower your portfolio's volatility while boosting return.
That's partly because you're hedging your exposure to the U.S. dollar. When you invest overseas, you essentially swap dollars for foreign currency. So if the buck drops, the return on your foreign holdings will get an extra boost.
At the same time, foreign markets offer opportunities you can't get at home. China's economy, for example, is expected to expand 10% this year.
2. Europe isn't so foreign
Trouble is, if you buy a typical foreign stock fund, you won't own much of China or other emerging markets. More than 60% of the average foreign portfolio is in Europe, which in many ways is just another branch of the rich, debt-laden consumer economy the U.S. is part of.
And a giant multinational drug company based in Switzerland serves the same markets as a competitor in New York. You don't leave America behind simply by crossing the Atlantic anymore.
Morningstar analyst Gregg Wolper suggests that on top of your core foreign fund you add one that invests in smaller firms -- which are less driven by global trends -- or a fund that buys in emerging markets.
T. Rowe Price International Discovery (PRIDX) is a Money 70 choice for small-caps and midcaps; Vanguard Emerging Markets Stock (VEIEX) covers new markets well. (They're both risky, so keep it to around 10% of your portfolio.) If you prefer to own a single foreign fund, Vanguard Total International Stock Index (VGTSX) is 20% emerging markets.
3. We're innocents abroad
It's obvious but easy to forget: If you invest overseas, your portfolio can be hit by events in countries where you don't follow the news and can't read the language. That makes a selloff even scarier. You'll need to cultivate some emotional detachment, lest you overreact and flee before the long run plays out.
Need to figure out your financial future? Upload your video or Send us an email and tell us why your family needs a money makeover and you could be profiled in an upcoming story in Money Magazine.