Your home can make you happier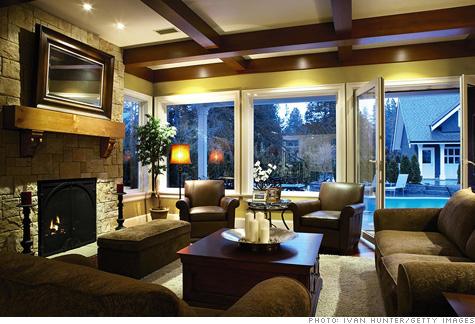 (Money Magazine) -- With your house almost certainly worth less now than it was three years ago --and with more declines possible -- you may feel stuck in your current place. Stuck, and bummed out.
Time to get over it. A new house with a snazzier kitchen or a big media room may seem like the ticket to happiness. But the burgeoning field of evidence-based design -- backed by science that studies the effect of built spaces on our brains and bodies -- indicates that neither tons of space nor high-end furnishings are key to your home satisfaction. Much more important are things that may seem minor but that pack a big emotional wallop.
"Light and color have a definite impact on people's emotional response," says Alison Whitelaw, a San Diego architect and vice president of the Academy of Neuroscience for Architecture, a group that brings research scientists and designers together.
Maximizing full-spectrum light during the day, matching wall color and ceiling height to a room's purpose, and placing the main seating in the "power position" (ideally with a wall at your back) -- those are just some of the tricks researchers say are proven to make houses feel better to their occupants.
Now is a great time to take advantage of these insights. According to a recent poll commissioned jointly by Money and home-improvement chain Lowe's, 52% of homeowners say they are focused on smaller projects that increase their enjoyment of their homes even if they don't increase its value.
Problem is, those people are in danger of wasting money on projects that won't increase their pleasure after all. That's because our survey shows that people aren't always right about what will make them happy in their homes.
For instance, homeowners think that their outdoor space has a big impact on their happiness, but it turns out that's not true. Indoor spaces have much more impact -- particularly the living room or family room, the kitchen, and bedrooms.
That's where this story comes in. It suggests ways you can apply design research to make six key rooms work harder for you. For example, your bedroom can get better at lowering anxiety and promoting sleep; your home office at helping you work more efficiently; and your living room at increasing family togetherness.
That last one is especially important, given that the National Science Foundation's General Social Survey -- which has polled some 53,000 people since it began in 1972 -- finds that what makes people happiest isn't their wealth, work, or health. Rather, it's their family relationships.
Best of all, the suggested fixes don't cost much (with the exception of a couple of kitchen projects). Some are free. And you need not tackle them all -- completing even two or three can make a difference.
Before you dive in, one caveat: We don't all respond to spaces exactly the same way. What brings you joy is affected by your personal associations.
"If your happiest times were at your grandmother's house, which had green walls, then green may make you feel better" than the colors research suggests, says Dr. Esther Sternberg, chief of neuroendocrine immunology and behavior at the National Institute of Mental Health and the author of "Healing Spaces: The Science of Place and Well-Being."
But keep the following tips in mind. They may come in handy when it's time to prep your house for sale -- you know, when your market starts moving again.
Upgrades to your first floor

Upgrades to your second floor