Google blames China's 'great firewall' for outage
NEW YORK (CNNMoney.com) -- Google's search engine was down in China on Tuesday -- a glitch the company initially said was due to its own technical tweaks, but now claims was caused by the Chinese government's Internet filtering.
"Having looked into this issue in more detail, it's clear we actually added this parameter a week ago," Google spokeswoman Jill Hazelbaker said late Tuesday in an e-mailed statement, referring to a change Google made to its search engine coding. "So whatever happened today to block Google.com.hk must have been as a result of a change in the 'great firewall.'"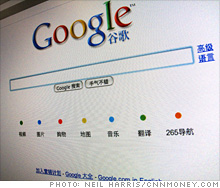 Chinese users who tried to complete Google searches on Google.com.hk Tuesday got error messages instead of search results. The Google homepage was still accessible, however, in both Chinese and English.
The error raised eyebrows because it followed on Google's controversial announcement last week that the Internet giant would pull out of its mainland China office after facing government censorship and a series of cyber attacks. Google (GOOG, Fortune 500) announced plans to operate an uncensored Chinese version of the site from Hong Kong instead.
Earlier on Tuesday, Google's Mountain View, Calif., headquarters was quick to discredit speculation that the outage was due to a government shutdown of the site.
"The blockage seems to have been triggered by a change on Google's part," Hazelbaker initially said in an e-mailed statement.
Google revised its comments, however, later in the afternoon.
The glitch occurred after a string of letters, "gs-rfai," started appearing in the URLs of Google searches globally. This string of letters serve as a code that Google uses to filter information about search queries. The letters "rfa" specifically triggered the problem in China, where those letters are associated with Radio Free Asia -- a non-profit news broadcaster banned by the government. China's powerful Internet filter blocks searches about Radio Free Asia, or its acronym RFA.
"Interestingly, our search traffic in China is now back to normal -- even though we have not made any changes at our end," Hazelbaker added. "We will continue to monitor what is going on, but for the time being this issue seems to be resolved."
Google is not the only U.S. company recently fed up with China. Last week, Go Daddy -- the Internet domain registration site -- cited tough new government rules in its decision to no longer offer Chinese Web domains.
China also bans Facebook, Twitter and Google-owned YouTube.